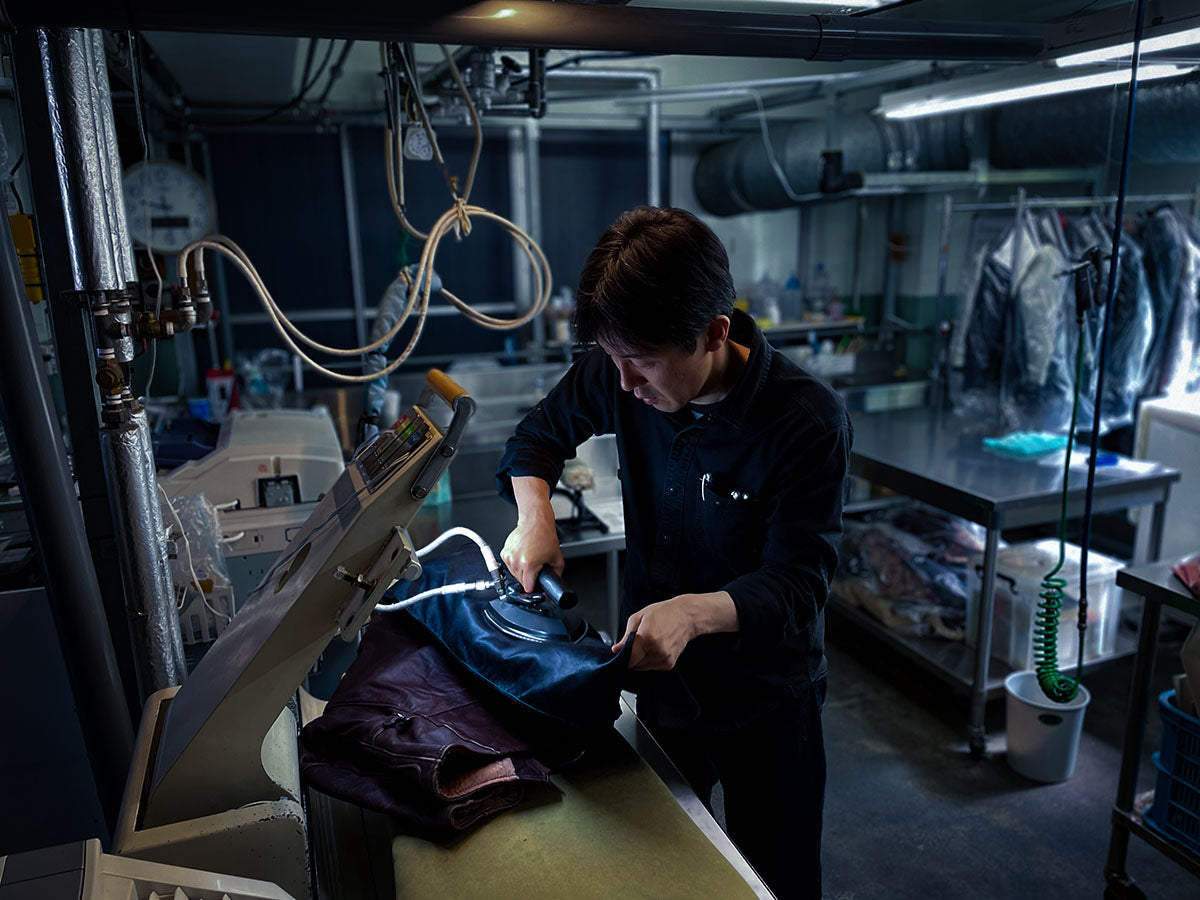 FAQ
FAQ
We have compiled a list of frequently asked questions regarding Ref Leather's cleaning service. I would appreciate it if you could use it as a reference.
Possible regardless of the type of animal

We can clean any type of animal, including cows, horses, sheep, and deer (exotic leathers such as snakeskin and crocodile leather cannot be cleaned). It is also compatible with most leather products such as racing suits, jackets, pants, gloves, boots, bags, and wallets. However, if the product is subject to severe deterioration, has a special product structure, or extremely delicate leather, there is a risk, so please consult us.
Can be washed at home

Artificial leather is natural fiber or synthetic fiber coated with resin, and is completely different from natural leather, and is not compatible with reflex leather. You can wash it at home (check the washing label), but if there is dirt that cannot be removed, we recommend that you consult a general cleaning shop.
Best before storage in the off-season.

Differences will occur depending on the frequency of use and environment, but if it is a jacket that will be used as street wear, we recommend cleaning it every 2 to 3 years. For racing suits and rider's jackets worn while riding a motorcycle, we recommend cleaning them every 1 to 2 years to remove sebum, dust, and dirt from exhaust gas in order to continue using them for a long time. If you get stains from splashes from meals or oil from maintenance, please consult us (some stains may not come off). It is recommended to remove dirt before storing during the off-season to prevent problems such as mold growth during unused periods.
Not recommended due to high risk

It is possible to wash leather products at home using a commercially available leather detergent, but depending on the delicate nature and condition of the leather, there may be a high risk. If you don't know the know-how for washing leather, including the concentration and use of detergent depending on the type of dirt and condition of the leather, brushing methods, dehydration, and drying, you may end up with shrinkage, damage, and discoloration. It can happen. Leave your beloved leather products to the professionals.
Full of good things and no disadvantages

The advantage of re-leather is that it can prolong the life of the leather by removing sweat, sebum, dirt from exhaust gas, and various odors, keeping it clean, and even providing treatments. By applying water repellent treatment after washing, you can prevent stains and even mildew.
Varies depending on the type of leather and dirt

The degree of removal varies depending on the leather type, color, stain factor, and degree of penetration. It can remove dust and deposits that remain on the surface, but it is difficult to remove sebum stains that have penetrated into the interior.

Odor: Body odor and cigarette odor are relatively easy to remove, but fragrances such as perfumes and air fresheners are difficult to remove.
Mold: Surface adhesion can be removed, but mold mycelium penetrates deep into the leather tissue, so the possibility of mold roots remaining cannot be denied (the risk of mold re-occurring depending on the storage environment after the fact remains).
Stains: Since the tissue fiber density of leather is an order of magnitude denser than that of ordinary clothing fabrics, it is not possible to remove stains. We will focus on stains while washing the entire area.
Improves comfort and ease of movement

There is a tendency for the leather to become softer through treatments and kneading, but the effect of softening the leather is secondary. It depends on the condition of the leather before washing, but if the leather is hardened, the treatment will replenish nutrients to the leather, making it softer. The effect may not be obtained on leather that has deteriorated significantly due to oil loss.
It is important to deal with it immediately

First, use a clean, dry towel to absorb the dirt. When doing so, be careful not to rub too hard or cause dirt to seep in or damage the surface of the leather, so be careful to tap or press to suck up the dirt. Do not rinse with tap water or use alcohol-based wet tissues as this may damage the leather.
Let it dry quickly and thoroughly

After driving in the rain, use a clean, dry towel to absorb moisture, then dry it in a well-ventilated place away from direct sunlight. It is strictly prohibited to dry the leather near a hair dryer, dryer, or heating device as this may cause the leather to shrink due to heat. If you're wearing boots, stuffing them with crumpled newspaper will help them dry faster and prevent them from losing their shape.
Dry wiping and brushing are the basics.

It is best to use a clean, dry towel or a special brush to remove all dust and dirt after each use. If you are concerned about stains, try wiping them with a damp towel that has been wrung out. For stains that still won't come off, you can use a leather-specific cleaner. If the leather has lost its luster or feels hard, use oil or cream to moisturize the leather. However, be careful not to apply too much. For unpleasant odors, we recommend using an unscented deodorizing spray on the lining side.

Note: When using maintenance agents, etc., be sure to test on an inconspicuous area and confirm that there are no stains or discoloration before use.
Hang it in a well-ventilated place

Folding, laying flat, or stacking items is strictly prohibited. If you cover it with vinyl, etc., it will not have good ventilation and may cause mold to grow, so please tear it up. In addition, vinyl chloride reacts with chrome-tanned leather and dissolves, sometimes adhering to the leather. When using the cover, use a non-woven fabric with excellent breathability, and hang it in a well-ventilated room away from direct sunlight using a sturdy hanger that fits the width of your shoulders.
We recommend thick and thick hangers.

If you use a hanger that is narrow or not wide enough for your shoulder width, the weight of the leather jacket will put pressure on it and cause the leather to stretch. It is difficult to restore stretched leather to its original state. By using a thick hanger with a thick shoulder area, you can distribute the pressure on the jacket. As an emergency measure when you only have a thin hanger, you can wrap the hanger in a towel to make it thicker.