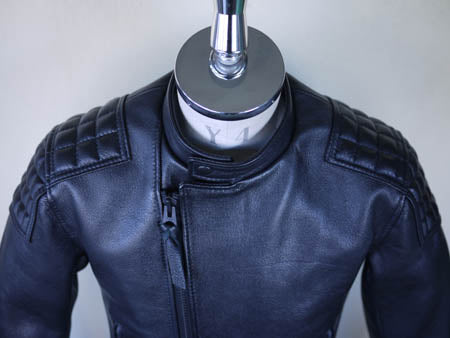 This time
The jacket ordered by Mr. K of the Fukuoka store
Let me introduce you.




The jacket is based on
It is [MERIDEN SPEED-TWIN] .


The content of the order is
from off-the-shelf models
[Custom Order].






・Leather is goat, color is black
・The metal parts are unified in black, the same color as the main body.
・Changed the length and sleeve length, and adjusted the angle from the front zip hem to the neck.
・ Collar height and collar adjustment

The lineup model SPEED-TWIN
1.8mm thick oil soft steering is used.

Despite its thickness, it is an oil soft steer that is characterized by its softness and familiarity.
If you compare
The goat is familiar from the beginning of wearing as if it sticks tightly to the body.
It has firmness and elasticity, but is very soft.
Above all, due to the lightness that is also the characteristic of the goat
It also has the advantage of not getting tired even when riding for a long time.





A low-resilience sponge equivalent to a ready-made model
Although it is sandwiched with outer leather
compared to oil soft steer
Goat leather is thin and soft, so
The way the pad rises is clearer.


Raise the width of the collar slightly
By making the tilt angle of the front ZIP closer to the vertical than the ready-made model
The width of the lower collar is quite compact.



The lining is also black.

The all-black leather jacket is complete.

Uneven texture (expression of leather surface) and
HF-GOAT is carefully finished with dyes and has a three-dimensional effect with a natural bottom luster.



The same color that tends to be monotonous
by the combination of materials
We have put together an expressive balance.

This jacket is a condensed version of the owner's individuality and attention to detail.


Mr. K
Order of this time
Thank you very much.





Made-to-Order Spec/MERIDEN SPEED-TWIN Custom Order

・Leather/Goat Black
・Lining: Super hard twill quilting black
・ZIP/YKK No.5, No.10 Black
・Dot button/dar black
・ Dealer / Kadoya Fukuoka store


[Harada]