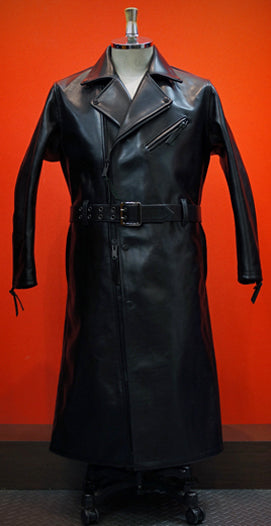 Thanks to you, while I was busy making leather jackets every day, I noticed that in December,
This year, too, I was involved in a lot of custom-made projects.

Custom-made requests received throughout the year include:
Every year there is a vague trend,
Last year and the year before last, we received many requests for shirt jackets using deerskin, partly because of the launch of HF-DEER .

And this year, there are really more requests for "coat type jackets" than usual,
Even if you say "coat type" in a bite, it is a long length that goes from short waist length to below the knee,
There are a wide variety of designs such as rider jackets, lunch coats, car coats, military and formal styles.

Among them, we would like to introduce





Long coat in vintage steer.

Although it is based on the ready-made product " HF/AW-C ", it is an overcoat that is perfect for street wear.





Simple design yet overwhelming presence,

It gives off an aura that can't be put out in things that are easy to put on.


It's great that you liked it.

Thank you.



Made-to-Order Spec/AW-C VS Custom

・Leather/vintage steer black
・Lining: Super hard twill black
・ZIP/YKK No10 No7 black
・Button, eyelet/black
・Buckle/black nickel
・ Dealer / KADOYA Tokyo Main Store


[Ichishima]