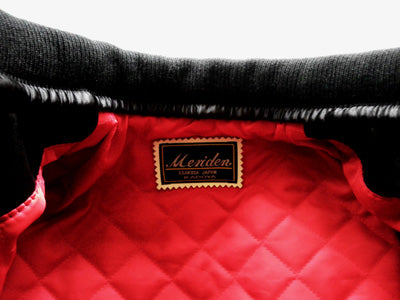 Mr. K's custom-made jacket ordered at the head office
Introducing.




Based on SPEED-TWIN , the leather is vintage steer,
The material is changed to antique gold.






And the switching of the front section, which is also a feature of the ladies' specification,
I drop it into a men's model.





A natural finish while retaining the atmosphere of the base model.








Caramel-patterned pads on the shoulders and elbows.

Built-in low-resilience urethane is changed to soft sponge
Uses floating attachment.







Detachable knit rib on the inside of the collar.

This rib and gentle line are the original SPEED-TWIN
It makes the image look very soft.







This time, one of the few women's models made-to-order
I have taken it as an example.


Also, thank you for visiting our main store in Tokyo all the way from Hiroshima.
Thank you very much.


If you have another chance to come to Tokyo
Put on this jacket and look astride the Buell/Lightning X1
I would love to see it.


Thank you for ordering from afar.



Made-to-order specs

・Leather/vintage steer black
・Lining: Super hard twill quilting red
・ZIP/YKK No.10 No.5 antique gold
・ Dealer / KADOYA head office


【Nakamura】