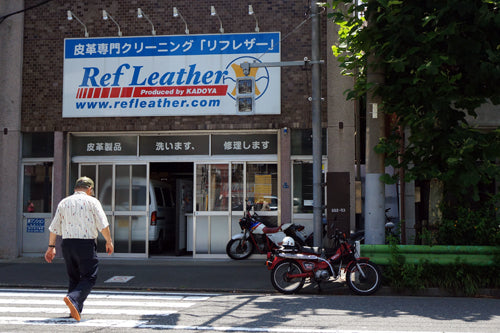 Ando shoe engineer boots white suede were released a few years ago only at KADOYA directly managed stores.
I wasn't confident that I could keep wearing pure white brushed leather cleanly, but I thought I could just dye it black if it got dirty, so I bought it right away, and since then, it's my favorite item and I've been wearing it every three to two days.
Lately, I've noticed that I've been wearing these cute boots every day, and I was surprised to find that they've been wearing them every day, and the dirt and unpleasant odor from months on end have gotten to the point where I can't ignore them. I have decided to leave it to you.
KADOYA's specialty leather cleaning service, Ref Leather, is located along Asakusa 6-chome Umamichi-dori, a 5-minute bike ride from the KADOYA headquarters.
Mr. Maeda was in charge of the cleaning this time.

A man who spent his early 20s living a wandering life.
He is the strongman behind KADOYA, with experiences such as traveling around Japan on a motorcycle and charinko, and living a survival life in Iriomote.

Moreover, I heard that he had been living in the wild for most of those years, so I seriously tried to imagine what that must have been like.
I'm pretty cool .
It was probably wandering between animals and humans.
Aside from digressions, this was a great opportunity, so I asked for their cooperation in introducing the Refurza factory.

When you step into the building, you'll see countless leather products hanging out to dry.
A well-organized and clean workplace. This is a golden rule in the field.
We immediately started checking the items.
Careful pre-work inspections will be carried out.
Here, we thoroughly check the condition of the leather and the degree of fraying of the threads, and identify any risk factors that could lead to damage during the cleaning process.
First, blow out any dirt or dust that has adhered to it with air.
It seems that confirmation work is continuing at this stage to solidify the image of the cleaning work.
Next, wash with running water. At this point, superficial dirt will be removed.
The items are then transferred to three sinks.
The first liquid is an anti-fading liquid to prevent color fading during cleaning.
Let it soak for a few minutes and then move to the second sink.
Once the cleaning solution penetrates and lifts away dirt, odors, and mold from inside the leather, I can't help but be fascinated by my boots, which are brushed with great force, speed, and care.

This gives me a strange feeling, as if it overlaps with the feelings of a dog lover who watches over his puppy with warm eyes when he takes his dog to the salon and surrenders to being cut, shampooed, and blow-dryed. It had become.

That's how good it makes me feel.
It's boots.
If it is determined that the dirt could not be completely removed in the second sink, a detergent with a different ingredient is sprayed on the sink and further brushing is continued.
If it still doesn't work, they'll have to use a different chemical, but my boots ended here.
The cleaned items are soaked in the third tank for a while to replenish nutrients.
Boots taken out from the treatment tank.

At this moment, I feel like I was in sync with the feelings of a dazed motorcyclist who was relaxing at a hot spring on a tour.
Mr. Maeda, the traveler, gently wraps me in a bath towel and absorbs the moisture, finally giving me a smile.
Immediately crump up newspaper and stuff it into a mold to prevent it from losing its shape.
Place it under a fan for a few hours.
This is a scene from a hot spring where you can relax in a massage chair with coffee and milk in hand.
After this, the fan will be removed and left to air dry for several days, completing the maintenance.

The boots were delivered the next day.
To be honest, I didn't notice any dramatic changes in my appearance.
However, as soon as I saw the dirty waste liquid in the second sink and the garbage collected in the drain, my expectations had already reached 100%, and I needed a series of sincere work and, above all, My satisfaction level easily exceeded 100% as the unpleasant smell of several months was gone.
What impressed me was the amount of effort and time spent on pre-work inspections.
Mr. Maeda says that Ref Leather's greatest commitment lies in careful inspection and single-item work.
No two leather products are the same due to the type of leather used, the material used for the backing, the manufacturing method, and individual differences due to aging.
Therefore, pre-work inspections are repeated until a cleaning method that is suitable for the item is found.
This time, it was washed by hand with water, but dry cleaning is applied in situations where water cannot be used.
In any case, since each item has its own individuality, it is necessary to wash each item individually, and it seems that it is not possible to put multiple items together in a tumbler.
They are particular about the detergents they use, placing emphasis on the balance between the burden on the leather and the cleaning power.
Another point is that it provides a good supply of nutrients after washing.
I felt that the cleaning process was aimed at refreshing the leather itself.
For those who have favorite leather goods that they want to use for many years to come, we sincerely recommend Refur leather cleaning.
Apparently they are running a campaign throughout July.
[Ichijima]