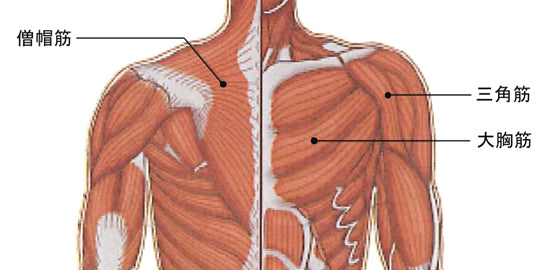 This is Mr. Matsumoto, who recently ordered a jacket at Kadoya main store.
As you can see, he has a muscular body,
Former fighter of Shooto (welterweight)/Pancrase (lightweight).
He has a total of 20 fights in the professional ring.
When making the pattern for his jacket,
Let's consider what kind of prototype to make.


On the back of the body, the upper, middle, and lower muscles are responsible for important movements of the shoulder blade.
The "trapezius muscle" is noticeable.
At the front, the ``pectoralis major'' muscle, which starts and ends from the sternum and clavicle to the humerus, is clearly developed.
The ``deltoid muscle'', a single joint muscle at the tip of the shoulder adjacent to the pectoralis major muscle, is also prominent.

Back Front
The thickness of her body is also different from that of an ordinary person.
With the above in mind, we will manipulate the raised parts from the original model.
By directly addressing the area of ​​deficiency, the effect will be achieved even if the number is small.
The outer material chosen by Mr. Matsumoto this time is 1.8mm thick matte hard steer.
It is desirable to create clothing with a good fit and a pattern that does not make you feel the weight of the leather.
I think he would wear iron armor normally...


A rough outline has been created.
From here, we will make adjustments based on the carefully measured values.
Next, add the sleeves, collar design, cut edges, etc.
Proceed to making the basting pattern.
Mr. Matsumoto, I'll see you again when the basting is completed.
[Ushizaka]