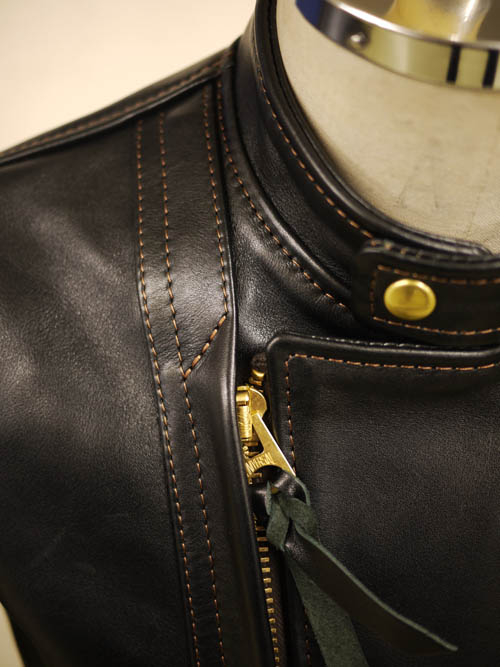 is based on
HF lineup model
MERIDEN BONNY MODEL-0

As long as you only look at the neck
There is no trace of the base model.

The collar has changed from a regular collar to a stand collar.

The front zip is designed to hide bugs.

There are various types of bug hiding
This time, set the ZIP on the body body
From above, it will be a type with a zip cover sewn in.

HF lineup model AW-P VS
It is a detail structure seen in American police jacket models such as.




The design is similar to the SPEED -TWIN of the MERIDEN series.
Depending on the height of the stand collar, metal parts, thread color, etc.
balanced
Good old American style.




Except for the collar on the back
Same specifications as BONNY MODEL-0.






ZIP is
vintage zipper
OLD AMERICAN




OLD AMERICAN
Reprinted based on American vintage zippers from the 1940s and 1950s.
The cotton tape, press slider, etc. look the same as they did back then.
Quality has been replaced with modern specs and added value
It is a ZIP with atmosphere.

The surface is mainly designed to hide ZIP bugs.
Not very assertive
The back side, facing pocket
Chain-type ZIP slider with worm-out specifications

The champagne gold lining and the brown stitching are exquisite.
It has a strong presence.





Mr. Katsuta is still active even after reaching his 60th birthday.
I am a veteran rider.

love machine
Harley Davidson
1976 FLH.

How you look when taking measurements for an order
I saw it in the photo of the specification sheet.

with a very calm expression
watch on shirt
You were a very nice gentleman.

Also
When you come to the store for basting fitting
I saw the figure straddling the favorite machine in jeans.

Both on and off are cool
The dignity of life experience that has been accumulated
young people like me
I just tried to imitate
You shouldn't be.

Me too
Like Katsuta
Even as I grow older
forever and ever
Heart-throbbing

A life with a motorcycle and a leather jacket
to walk
is the goal
It's my dream.


Order of this time
Thank you very much.







Made-to-order spec / MERIDEN BONNY MODEL-0 base

・Leather/vintage steer black
・Lining/polyester satin champagne gold
・ZIP/YKK OLD AMERICAN No.5, No.10 Gold
・ Dealer / Kadoya Osaka store



[Harada]