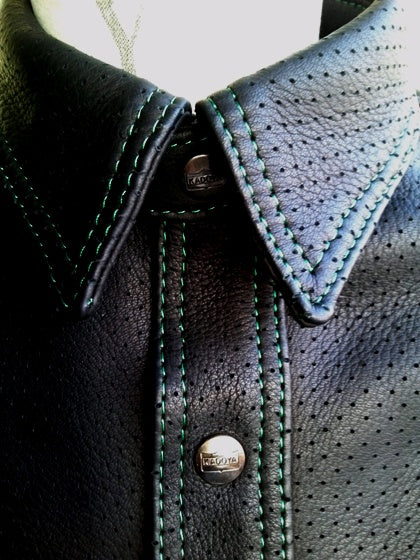 Last time, Mr. Kikuyasu, a customer of the head office who ordered N-3BLeather .
This time, I was conscious of spring, a pair of clothes worn on the street.
I ordered a deerskin work shirt with punching specifications.

Green stitching shines on the black body.
It is an orthodox and simple jacket,
Kikuyasu-san's arrangement has been beautifully finished.




A foil-stamped KADOYA emblem on the left shoulder.




Star-shaped stitching on the inner elbow leather.






Mr. Kikuyasu, the young master of the dumpling shop "Fujimiya" where people line up.
I am grateful for the generous gifts that I always receive.
On this day as well, despite working from 3:00 am, he came to the store with a big smile.

Enjoy the comfort of deerskin right away.
The softness of deerskin that is as soft as it looks,
It looks like you are satisfied with the comfort.





And for my daughter who likes yellow, a key chain souvenir...




Thank you for your order.


Made-to-order specs / DEER work shirt

・Leather/deerskin black (punching process)
・Lining / polyester mesh black
・ Thread / 8th thread polyester green
・Dot button/crown black nickel
・ Dealer / KADOYA Tokyo Main Store


[Ushizaka]