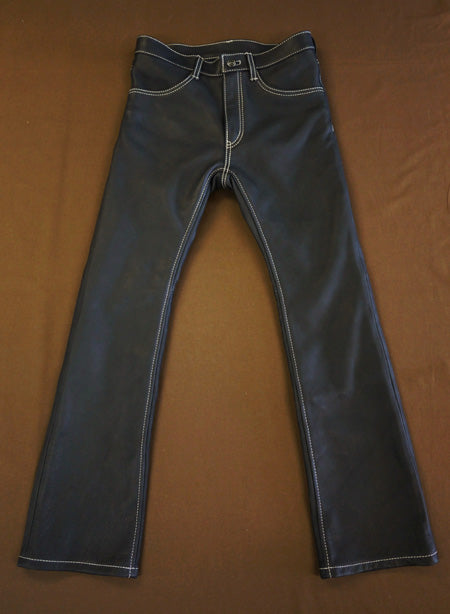 Made-to-order deerskin pants.
With its orthodox style, there is no shortage of coordination variations.
A voluminous glance created by ivory core spun thread stitching,
It is an accent to the black body.
The customer is wearing it as a set up with the HF/AS-1 that he has already made with the same deerskin.





In contrast to jackets that can be put on and taken off repeatedly throughout the day, pants are probably worn all the time.
As a matter of course, the person's daily life becomes "hit" such as wrinkles, rubbing, discoloration, deformation, etc.
I think it shows up more easily.

・・・ Boots, how to walk, chairs, how to assemble your legs ・・・ Things to put in your pocket, things to hang on your belt ・・・
Bikes... seats, tanks, frames, cowls, air cleaners, oil tanks, kick arms, cases...

If you notice, the traces of being made.

I think that these pants will also come with various "hit".
If you are interested, you can also follow one of them.

In a sense, it is an encrypted trace of our surroundings.





Made-to-Order Specs/Deerskin Pants

・Leather/deerskin black
・Lining / super hard twill black
・Thread/6th thread core spun ivory
・ZIP/YKK No.7 antique gold
・ Dealer / KADOYA Osaka store


[Takano]