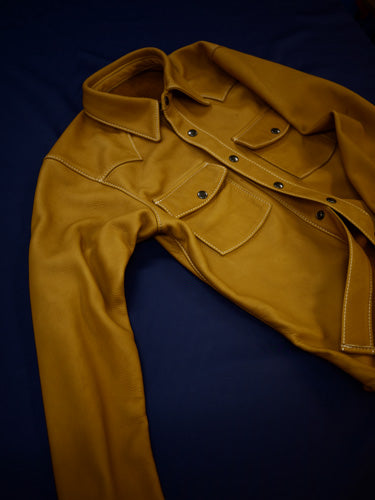 HF-DEER deerskin.
One of its characteristics is its fluffy lightness, moist suppleness, and feel on the skin.
HEAD FACTORY As well as two ready-made models, FLAT TRACK RACER and EARLY SPRINTER ,
This custom-made 2-pocket deer shirt is also unlined,
In addition to the feel of the leather itself, you can directly feel the changes in the air that surrounds your body.

Outerwear over a T-shirt on a dry and refreshing day.
As an inner layer under a jacket when you feel the cold.
Warmth is conveyed from the soft leather floor.
When the wind becomes comfortable and doesn't add stress to your run, it's time to go back to outerwear.
And in the season when the humidity rises, you can challenge the hot and humid weather with the unique breathability of deerskin.
The raised floor surface reduces the sticking of sweaty skin.

A material that can be worn for a long time of the year.
Leather shirts seem to be easy to coordinate with other outfits, so there are many opportunities to wear them through the sleeves.







Recently, besides the wind, have you ever felt a quiet breath...?

I don't think it's because of my mind.








Made-to-Order Specs/Deerskin Shirt

・Leather/deerskin camel 1.3mm thick
・Dot button/antique gold
・ Thread / No. 6 core spun ivory
・ Dealer / KADOYA Nagoya store


[Takano]