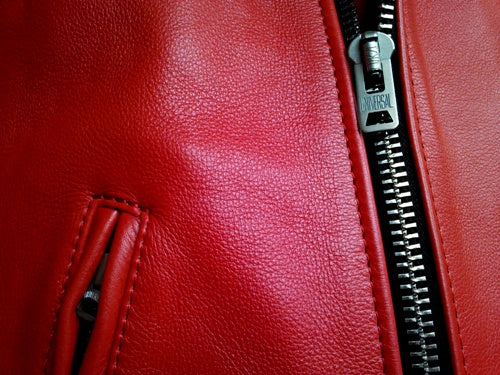 This was ordered by Mr. S, a regular customer of the Tokyo head office.

Red double riders.






It has the same specifications as the made-to-order jacket (made-to-order 110) that was just delivered a few months ago.

Change only the material. The category will be a full order with some pattern modifications.







Up until now, the color of the jackets that Mr. S has ordered has all been black.

The leather used this time is Minkle Red. And choose red for the lining.







Mr. S, who loves Head Factory products, started with ready-made products.

After going through a semi-order based on that size, it led to a full order from the last time.







Choose details while consulting your favorite fabrics and designs, and imagine the finished product.

There are various real thrills of custom-made products, such as waiting for the number of days until delivery.


Among them, the full order is based on temporary stitching, and the silhouette line of your choice according to the person's body shape.

It is possible.


Further adjustment of comfort such as fit and comfort.

And to the only one complete original in the world.








I wasn't able to be present at the time of delivery, but the staff in charge showed me a picture of me wearing it.






Thank you for your cooperation.


Even so, we have received orders at a tremendous pace over the past few years...



When I visited the store the other day, I learned about the leather used in the new Head Factory model that will be joining soon.

We asked the staff in charge about how the strong interest led to the conception of the next order.


Mr. S! Are you still alive? ! Thank you for your time.


Since I am on the side of the creator, it is difficult to do

These days, I keep thinking, "I want to order one myself."


Thank you for your order.


Made-to-order spec / MERIDEN BONNY MODEL-0 base

・Leather/Minkle Red
・Lining / Super Hard Twill Red
・ZIP/YKK No.5 No.10 Nickel Old American
・ Dealer / Kadoya Tokyo Main Store


【Nakamura】