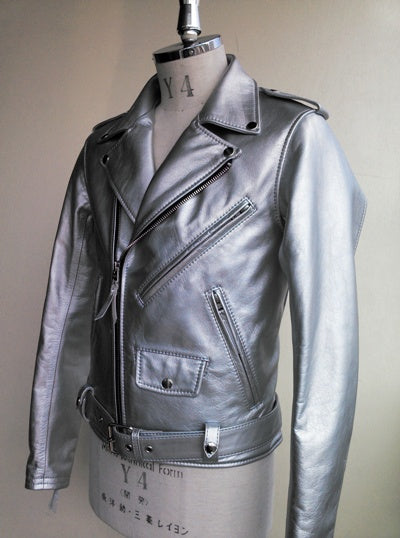 This is a silver W riders suit ordered by Mr. Y.

Based on the AW-1 VS , Mr. Y's favorite specifications are included.

The category will be full order.






・The angle and size of the breast pocket
・Position and shape of coin pocket
・Switching the back from round to straight
・The zip on the sleeve is designed to show off
・ Black quilting on the lining, etc.

You can see the commitment of Mr. Y who was looking forward to the completion of this jacket.






The waist belt buckle has been changed to a tube type to reduce weight.

The core material to be put inside uses a soft material as much as possible.

Choose a thin drum die leather.

We can clearly hear Mr. Y's request for lightness and softness as much as possible.






And the number 1 chirori is still Isn't this color?

"metallic silver"


The glare and diffused reflection of the entire jacket is futuristic, and it is also reminiscent of the music scene.

While seeing various made-to-order jackets, the jacket that gives you a shocking view of the world

I don't see it very often. The head office staff was also curious.

"Exactly your own suit"





I heard from the staff in charge that they wore it early and went out to live performances.

I am glad that you like it.

Thank you for your order.


Made-to-order spec / AW-1 VS base

・Leather/drum die silver
・Lining / satin quilting black
・ZIP/YKK No.5 No.7 Nickel
・ Dealer / Kadoya Nagoya store


【Nakamura】