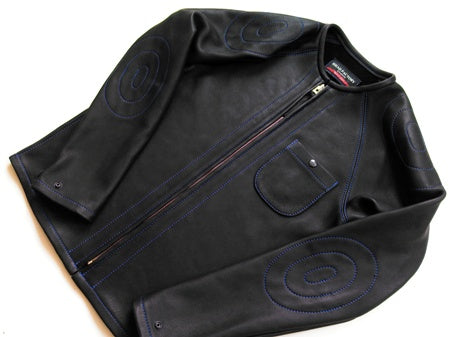 I would like to introduce Mr. S's leather jacket that you ordered at the Fukuoka store.


Based on the black color of EARLY SPRINTER , the size and specifications conform to the ready-made products.

The only change is the color change of the sewing thread.




Black has many colors that go well together, and it has the effect of enhancing the other color.

Reflecting this, the highly saturated blue thread used this time looks more vivid.

"Black" and "blue" complement each other well.




A select order that allows you to change various parts from leather materials based on Head Factory's ready-made model.

Although it is the most basic made-to-order item, it is recommended for those who have a perfect fit for ready-made items.

Just by changing the color of the thread The impression changes.



It can be used as an accent, or a combination that is hard to come up with...

We see various cases every day during production.

To the color scheme decided in the process where the customer imagines the finish

In chirori and sense There are many things that can't help but growl.






A leather shirt with no lining, taking advantage of the excellent breathability of deerskin.

Although it is a full-season model, it is perfect for the coming season.


Thank you for your order.


Made-to-order specs / EARLY SPRINTER Base ・Leather / HF-DEER Black ・ZIP/YKK No.8 Gold ・Thread/Core #6 Blue ・Buttons/Darling ・Dealer/ Kadoya Fukuoka


【Nakamura】