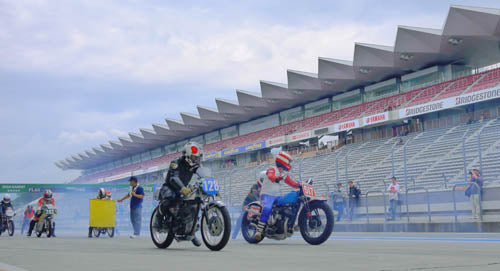 Hello, this is Harada.
Soon after June begins, the rainy season begins in the Kanto region.
The weather continues to be unrefreshing day after day.
It's been a heavy and depressing time for riders.
How are you all doing?
I am on a sunny day between the rainy seasons
I went on a short tour by myself for the first time in a while.


What came was Fuji Speedway.
On this day, [2016 MCFAJ CLUBMAN ROADRACE SERIES-2] was held.
Members of our TRIDE RACING TEAM will be participating in the race, so we're cheering for them.


When I arrived at the paddock in the early morning, it was already there.
TEAM TRIDE member Okamoto's chopper tiger came to support us.
It's a beautiful bike no matter how you look at it.


And this race car number No. 517 is
He often appears on the HF blog.
TRIDE RACING TEAM Seita-kun's machine.
1940 INDIAN SPORTS SCOUT
LOC〔LEGEND OF CLASSIC〕
HISTORIC MOTORCYCLE ROAD RACE SERIES
Entry to the PRE-1950 class.


Side valve 42 degree V-twin
Displacement 750cc
Rigid frame on garter fork
Hand shift (The original is left throttle right shift, but it has been changed to reverse shift.)
The tank is small and lightweight for 500cc INDIAN PONY.
A motorcycle manufactured 76 years ago.
I think it's quite difficult just to maintain the condition.
Running a 4km course for 6 weeks at almost full throttle is extremely demanding.
Seita-kun knows how to handle vintage bikes
This time too, he will run at full throttle down the 1.5km home straight.


The helmet is also beautiful.
Painting is done along with the vehicle
Created by Mr. Kubota, a member of TRIDE RACING TEAM.
Snell standard latest helmet
The matching of the pre-war machines is splendid.


I was spending some peaceful time with my teammates a while ago.
From the moment you put on your racing suit
The atmosphere will automatically become tangy.


There was a sense of tension in the pit before starting the race.


Signal to start the engine on pit road
Whistle sound echoing on the top of your head
I'm excited to see myself next to you!


Sounds good!
I can't believe I can run on the Fuji Speedway main course! !
Most entry cars are domestic or European cars.
American cars are INDIAN only
Seita-kun really stood out. . .


At the time of the final


I'm not a nagging old man.
I also help out as a pit crew member.
Arriving at the final grid
I'm still excited.
but
As usual
Seita-kun is cool.


This year's rainy season in the Kanto region started on June 5th, and since then it has been rainy every day.
It's been a long day since I checked the weather forecast for the week.
Even in the forecast a week before the race
As expected, it was raining, cloudy, and with umbrella marks all weekdays...
Oops? There will be a sunny mark on Saturday and Sunday! !
Even though I was prepared to wear a raincoat, my body and mind felt light and cheerful.
Also, by the end of the week, the forecast has changed a bit and it's raining...
I was praying that nothing would happen.
Fortunately, the weekly weather forecast was correct.
The weather has been nice since the day before.
On the day of the race, the temperature rose to around 30℃, making it a perfect day for the race.
In the first place, all riders entering the race are
Nothing compared to me going to the cheering games.
You are probably paying close attention to the weather and road conditions on race day.
For this sunny stage
For each person to fulfill their goals and objectives
Prepare carefully and take on the race.
I have been away from racing for a while
It's been a year and a half since I've been to a racetrack, and I haven't even met the team members.
It's been a long time since I went on a short trip with a tiger.
On this day, I had been restless and excited since the morning, and my consciousness was distracted.
After a long break, what I realized when I stepped foot on the race track for the first time in a while.
A racetrack is a place of serious competition where you are constantly in danger.
Above all, it was a sanctuary for people who love motorsports.
Feel the lively atmosphere of a racetrack
Remembering that familiar feeling of tightening your body
Also, the time I spent with motorcycle enthusiasts
My heart is full
It was the happiest day.