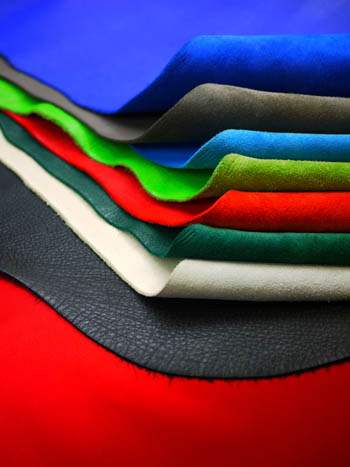 All leather 2 piece racing suit ③
③

Part 3 "Production content"
This time, we will explain the leather material and manufacturing details.
The leather is Minkle leather from domestic Holstein cows.
A wide variety of colors are also available.
Regarding black, there are glossy cow and non-glossy cow.
The pants I used this time are matte cow, also known as oil black.
The jacket is made of minkle leather and has a different color scheme, but it is called oil black.
Raw hide and tanned leather have the same content.
The tanning method is full chrome.
The thickness of the leather is 1.6mm.
Oil black has a matte finish that suppresses the luster of the leather surface (silver surface), and has a moderate texture.
It has a well-prepared "kakushibo" and is free from rain, dirt, friction, sunburn due to ultraviolet rays, color fading, etc.
In order to give the surface strength suitable for riding wear, black dye is used as the base material.
The top is sprayed with ``matte black'' pigment using lacquer.
Compared to raw dye-finished leather, it is less transparent in terms of the leather's original texture.
It is 1.6mm thick and soft with just the right amount of oil, giving it a unique and delicious taste.

Although it is duplicated,
When it comes to the strength of leather, there are major advantages.
Tears, tension, friction, dyeing, and sunlight fastness all meet the standards of the Japan Leather Association.
It has a high level of inspection value and is certified as "MFJ" leather.
This is a reliable and proven product that we have been using for many years.
Although it is strong in many aspects, it is also flexible, and it conforms to the body extremely well even when worn new.
You'll get a comfortable fit that feels like it's being wrapped around you.

(specification)
・All leather (waist zipper connection)
・ Jacket (raglan sleeves, racing collar)
・Pants (low-rise, boot-in specifications)
・Inner urethane pads on shoulders, elbows, hips, knees, and waistband
・Two pieces of leather lining the spinal cord, buttocks, and shins
・Removable spinal pad or hard movable pad
・ Knee pads (plastic pads or TPF urethane pads) with inner bag type
Knee position movement setting possible
・ Lower back (removable pad)
・Lining (removable polyester mesh)
・Specification notation
In preparation for an accident during a race, there is a katakana on the windbreak flap at the front zip.
Write full name and blood type
・MFJ official tag and head factory tag are sewn into the product.
The above is the contents of this specification,
In accordance with customer requests, this suit includes shirring, Kevlar knit, etc.
It is also possible to order settings that emphasize functionality and weight reduction.
You can also incorporate this design into a one-piece suit.
This is a racing suit with a concept that goes against the times.
If you are interested, please contact the staff at each store.
[Harada]