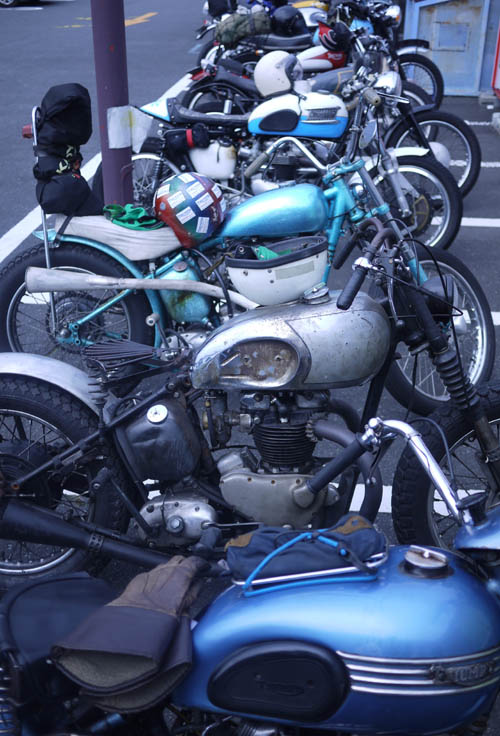 Hello, this is Harada.


into this week
Temperature drops suddenly
The lowest temperature in Tokyo is about 5℃.
The maximum temperature during the day is about 12℃.
The cold winter weather has arrived

Still, this year is unlike any other.
Even after November
The climate changes slowly and gently
It's been a long time since I was able to feel the feeling of autumn.

Meanwhile
in early november
With friends gathered at TRIDE MOTORCYCLES
At this time of year, it is an annual tradition
I went on a Mt. Fuji triride tour.




This year marks the 6th time [Mt.Fuji-TT]

The beginning is
Tried racing team members
Koyama-kun, Kubota-kun, Okamoto-kun and the four of us.
MCFAJ Clubman Road Race LOC
Titled "Reflection meeting on series participation"
Gathering in Yamanashi, Koyama-kun's hometown

Always face Mt. Fuji on the right side
Local roads where you can enjoy autumn to the fullest
from morning till evening
It ran well, but...

The number of participants increases each time
Recently, with the opening of the Ken-O Expressway
The reason is that the roads are new, clean and easy to drive on.

[Highway cool touring & hot spring drinking party]

has become established.

Year after year
less time to run
I haven't seen anyone since around noon.
Voices of "Drink!" were heard from everywhere...
Initially
ran steadily
Take the long course around Mt. Fuji on the local Shimodachi route.
After getting off the expressway, take a shortcut
It's starting to become an adult habit of heading to the inn.




This year, 13 cars gathered, the most ever.

President of TRIDE MOTORCYCLES
Although the members are mainly those who admire Mr. Oishi.
A long-awaited senior, a veteran legend rider
He led his friends and participated for the first time.
It became quite lively.




As usual, Kubota-san only
I participated with a masculine single-cylinder velo set.
All other riders are pre-units
(Engine and gearbox separate)
Participating in Old Triumph
Of these, 7 rigid frames




Gingin Chopper
bobber style
Vehicles with high original purity
Even a lacy vehicle with a separate back step




Same engine model
The finish of the car body
Each is unique and diverse

50-60 years ago
Although it is a very old vintage bike.

There is not a single bike that is quiet and looks like a decoration.

It felt so good to see everyone's openness.




The weather forecast was cloudy and then rain.
9:30am
At the meeting place in Hachioji, the sun shines more than time.
It was a relatively warm day.

Every year, this tour was blessed with sunny skies.
The ears of pampas grass on the Great Plains of the Japan Ground Self-Defense Force Training Range
Scenery swaying in big waves
On the background of grazing cows and fields
Mt. Fuji towers over with its outline exposed all the way to its base.
I was enjoying the crisp and clear autumn air.

Unfortunately on this day
Although it didn't rain,
Get off the Expressway Gotemba Interchange
By the time I finished lunch
The area is covered with thick clouds
Fuji can always be seen on the right hand side of the local road.
Unfortunately I couldn't see it.




however
Regardless of the weather
There are things that don't change, so...

also
In one word, it's fun.

Spending time with close friends

A comfortable and exquisite sense of distance that is neither far away nor close.
Although this is due to our long-term relationship,

It starts from the distance between each other's cars while riding.
If it even comes down to a sense of emotional distance,
That's true after all

Unique to comrades.

Are you comfortable together?
If it becomes
Nothing like that.

Full of unique personalities and highly stimulating
There is always a sense of tension

Especially while driving
If you don't mind,
I got punched by a member with a pap limiter
My heart breaks and I eat what I left behind.




Friends who meet after a long time

As usual
bikes and people
How to ride too
without force
It's cool

without stopping
anytime
Creative, imaginative, and interesting

I'm not a loser either
It motivates you to be active.


It's not easy though
Comfortable.

Because there is such an atmosphere
It's fun to be with everyone.


[Harada]