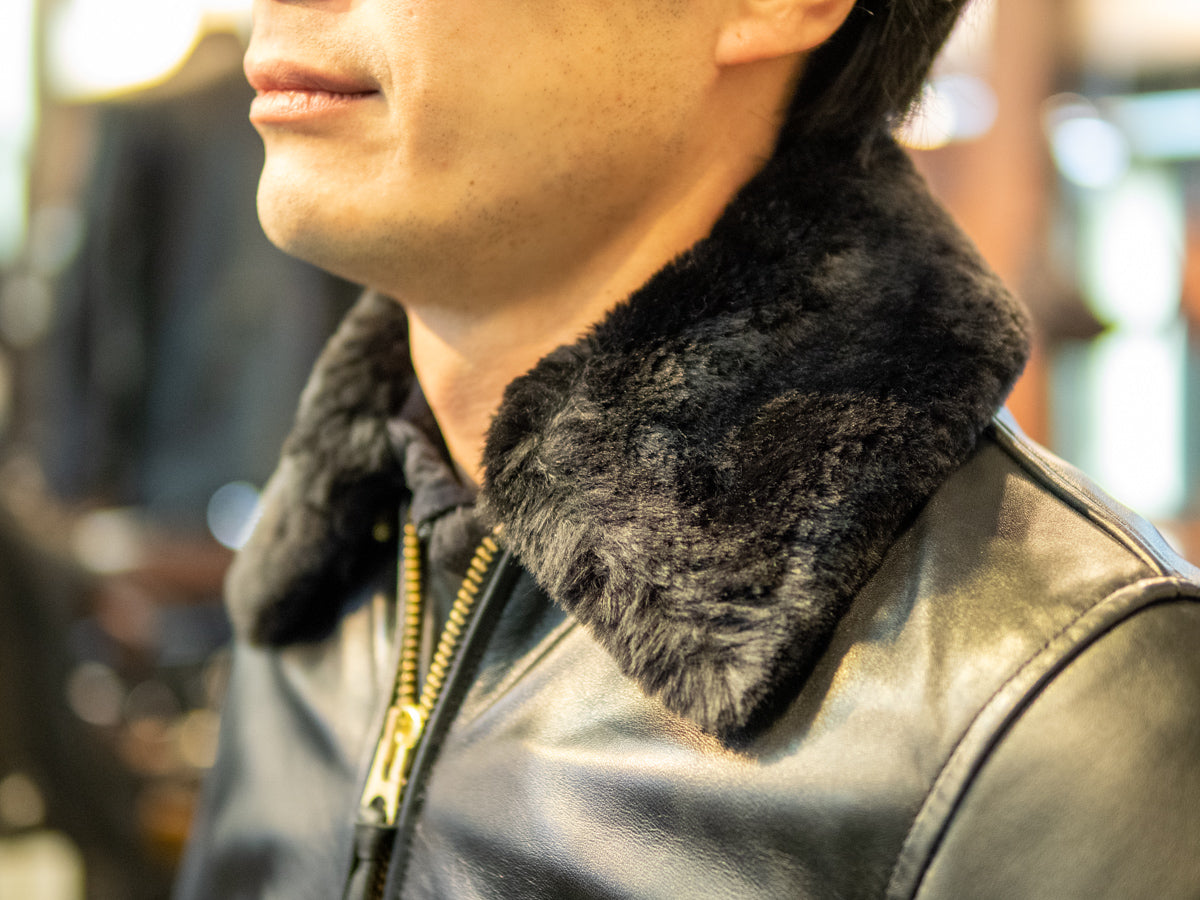 Collar boa model comparison [CHW-JP/SFT × BBJ-2]
Leather jackets with boa collars are a popular trend this season.
Therefore, this time we would like to compare and introduce two models from the K'S LEATHER series , CHW-JP/SFT and BBJ-2, ​​which have a boa collar.

The CHW-JP/SFT has a motif of a police-type highway jacket, while the BBJ-2 is a bomber jacket type, so although it is a single rider with the same collar boa, it looks quite different when compared.
---
◆CHW-JP/SFT
The relatively narrow waist gives a neat impression.
The front zipper and belt loop at the waist give it a rider-like feel.
With a removable collar boa and liner, and side lace-up, it can be worn for 3 seasons.
The thick soft steer (cowhide) can be enjoyed over time and is a piece that can be used for many years.
The acrylic boa is soft to the touch and prevents wind from entering around the neck, making it useful in cold winters.
CHW-JP/SFT is recommended for customers who want to enjoy the slim silhouette, rider-like feel, and aging of the leather.
---
◆BBJ-2
BBJ-2 with a bomber jacket motif.
It is characterized by a relatively loose silhouette around the waist and flap pockets on the front.
Made of supple oil cow leather that contains a lot of oil and is highly flexible and elastic, this item is easy to wear from the beginning.
It is equipped with Velcro for attaching a chest protector, as well as pockets for attaching protectors on the shoulders, elbows, and back to ensure safety when riding.
It is also equipped with hand warmer pockets, making it easy to use even when you get off the bike.
Detachable acrylic boa ensures warmth around the neck.
The BBJ-2 is recommended for customers who like a loose silhouette with a moderate amount of room, ease of wearing with a soft oil cowl, and the atmosphere of a flight jacket.
---
Jackets with boa collars used to have the image of dandy, adult jackets, but recently they have been incorporated into the fashion scene and have become an item worn by people of all ages.
This winter, why not consider choosing a leather jacket with a boa collar that will make you feel warm both visually and physically?