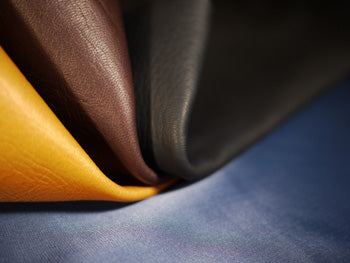 Brand New HEAD FACTORY
[Natural Art]
Fujioka Deer Product


This time we will introduce the new model of the Head Factory series.
First in the HF series, a Nara tanner with a 130-year history of clothing for the spring/summer season.
The series will be available in deerskin from [Fujioka Yukichi Main Store].
Suitable for all seasons, making the most of the rich texture and high quality deerskin material.
A simple, rough and tough raglan long sleeve T-shirt.
In order to take advantage of the fluffy and soft texture, we did not use lining and paid close attention to the texture of the material.
The feeling of being gently wrapped around you when you put it through your sleeves,
Deerskin's excellent characteristics of being light, soft, and durable give it a sense of security.
It will also have a mental relaxation effect while riding.


With its comfortable texture and simple functional configuration,
: Can be worn flat as an inner shirt during the winter season.
: The original characteristic of deerskin is that it can be used as an outer shirt during the summer season.
Long sleeves provide breathable comfort and safety during long touring.
The shoulder and elbow linings are secured with two pieces of leather.
Comfortable even when worn for long periods of time, and does not interfere with exercise while riding.
A stress-free shirt.
In addition, even when worn in everyday life, it does not look like normal riders wear.
It is not heavy, hard, or stiff, so it can be used for desk work throughout the day, walking, etc.
Also suitable for cycling etc.
<Model name> FLAT TRACK RACER (pullover type)
EARLY SPRINTER (front zipper type)


<Tanna> Yukichi Fujioka Co., Ltd. Main Store
<Leather> Deerskin
<Country of origin> New Zealand
<Tanning and finishing> Full chrome (water repellent)
With Soagegin
dye finish
<Thickness> 1.3mm
<Color variation> Black
Brown
camel


<Size> M - 3L (3L is UP price)
<Water repellent finish> Deerskin's excellent characteristics of breathability, soft texture, and durability
A waterproofing agent is injected into the tanning dyeing process without loss.
The durability of the water repellent effect is increased.


<Sewing> In pursuit of comfort, split edge stitching is used to reduce unevenness and bumps on the back side.
Used for sewing armholes.
The yarn is a blend of cotton and polyester, with a focus on strength and texture.
Adopts 6th yarn core spun.


<Zipper> YKK's high-grade zipper (Excera)
The smooth edges and careful gold plating create smooth movement.


The moist texture of the bare dye, the unique texture,
A more familiar feeling and deeper flavor due to aging.
A simple and timeless design.
MADE IN JAPAN Carefully crafted by Kadoya Head Factory craftsmen.
Through careful construction, we have created a product that can be used for a long time.
Please look forward to it.



In the next blog, I will explain about (Fujioka Deer) along with the contents of the tour of the main factory in Nara.
I will tell you.
In addition, the 2011 spring/summer product catalog and homepage, the start of posting of product introductions, distribution dates, etc.
Regarding this publication on the HF blog, the information may have changed and the link may not have been set yet.
For inquiries regarding product prices, release dates, made-to-order items, reservations, etc.
Please contact Kadoya main store or each branch staff.
[Harada]