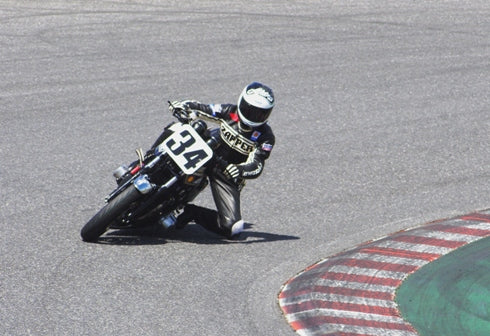 This time we would like to introduce Akira Komatsuzaki from TEAM ZAPPER.
The vehicle is Kawasaki Z750FX


He has been running around mountain passes since he was a teenager.
I'm a big fan of bikes.
I also have off-road experience, and since I started running on circuits.
I'm closing down my time like crazy.


He often participates in drag races...
At the JD-STER Drag Race held at Fukushima Sky Park,
He has a brilliant track record of winning his class.


The suit is tailored to suit the machine and the atmosphere of the time.
Made-to-order.
The material is minkle leather made in Japan (dairy cows).
Full chrome tanned thick leather is 1.6mm thick.
It has a soft finish with just the right amount of oil.
It fits well against the body, has tear strength and tensile strength,
Boasting high standards in terms of friction and sunlight fastness,
This material is trusted and proven as MFJ certified leather.


This time, according to the customer's wishes, we did not use different materials such as Kevlar.
All leather orders.
It is also possible to order with an emphasis on functionality and weight reduction.


This is a racing suit that goes against the flow of the times.
The concept ensures sufficient safety features and matches the vehicle and the atmosphere of the time.
Mr. Komatsuzaki looks great on the circuit with his machine.
I look forward to a hot run from now on.
[Ushizaka]