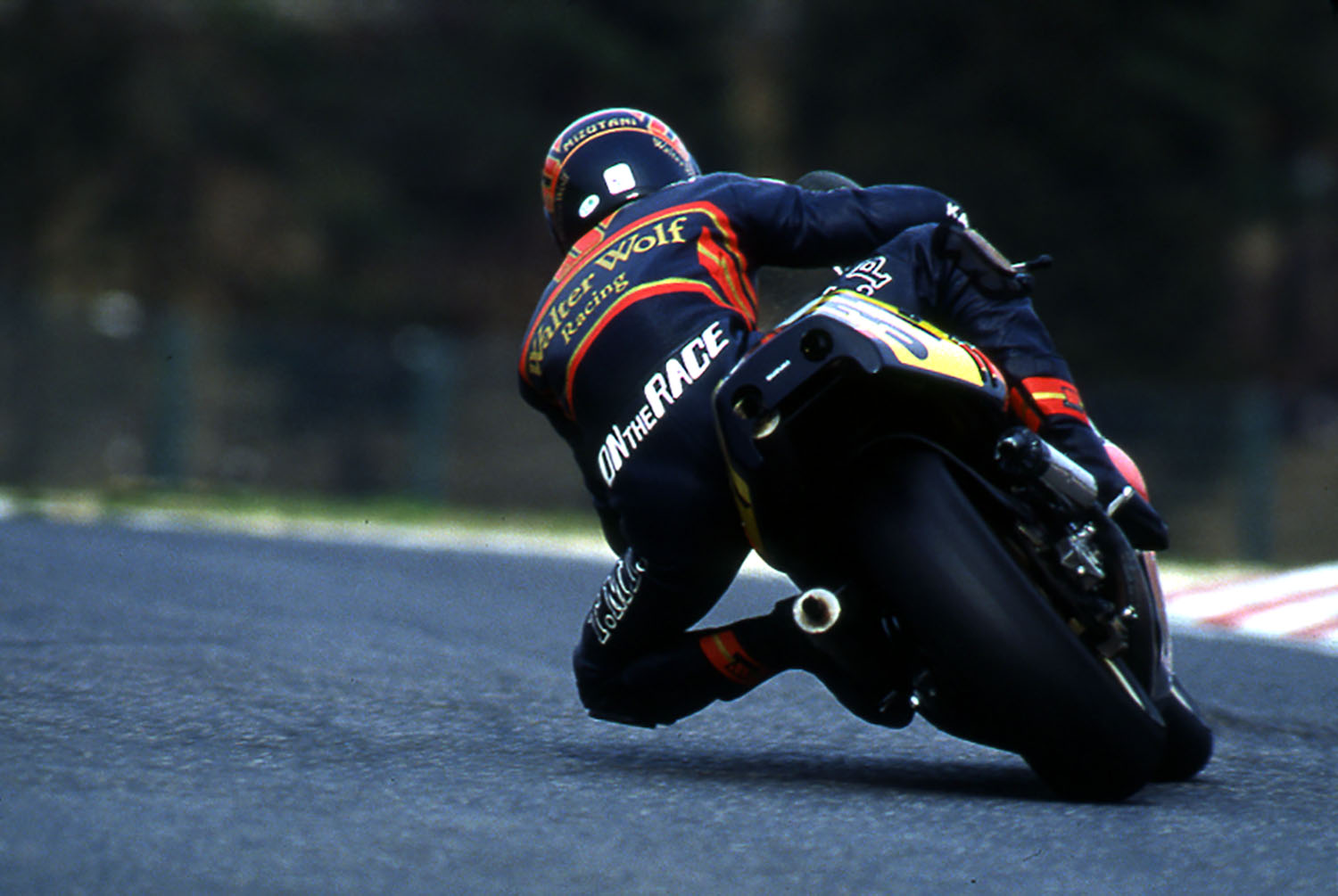 with the motorcycle
Arrival of the motorcycle boom

In 1975, Masataka Fukano, the son of founder Shojiro Fukano, became the second president. Around this time, the company expanded its business by focusing on the motorcycle field.
Committing to manufacturing with craftsmanship, he has developed products specializing in motorcycle wear, which is also his hobby.
As a result, with the arrival of the motorcycle boom, Kadoya's name became known all at once. At one point, it supported dozens of racing riders, and even set up signboards at the Tsukuba circuit alongside large companies.
Even in the 1980s, the company's original policies of "custom-made" and "making high-quality products" remained unchanged.
BATTLE SUIT
The "BATTLE SUIT" has become a uniform for hard bike users. Equipped with leather-wrapped hard protectors in 14 places throughout the body, it is the strongest protective clothing ever. Everything is fully custom-made to fit exactly where you need it.
The pride of a pioneer and the track record of a long-seller continue to build trust, making it truly a "BATTLE" suit.
In addition, numerous best-selling products such as the OVERGUARD SUIT, which was released as the first MFJ-approved 2-piece suit, were all born from Kadoya's one-of-a-kind ideas and skilled craftsmanship.
To further delight our customers
In order to communicate with the riders further, Kadoya will take on various challenges.
"Fan Meeting", an event to give back to KADOYA fans, "Shinya DAY" with street attacker Shinya Sato, "AKIRA [A] Project" held to commemorate the 30th anniversary of the legendary work "AKIRA"...
By creating opportunities for interaction not only with riders, but also with people in various fields related to motorcycles, we focused on the lifestyles of "people who enjoy motorcycles" so that we could communicate with a wide variety of customers.
KADOYA GRAFFITI.1 (70th anniversary book)
2005 (Heisei 17),
Published a booklet "KADOYA GRAFFITI" to commemorate the 70th anniversary of its founding.
AKIRA motorcycle
Pursue your dreams, take on new challenges, and continue to evolve.
Ref Leather
Started a cleaning business "Ref Leather" specializing in leather. This is an after-sales service for customers to use leather products for a long time.
"I believe that this new business is my final mission as I have continued to create revolutionary clothing. It can be realized
This will complete the system that I have been envisioning for many years.In the future, I would like to research this business further and make it a better one, along with making leather jackets."

(Current Chairman Masataka Fukano)