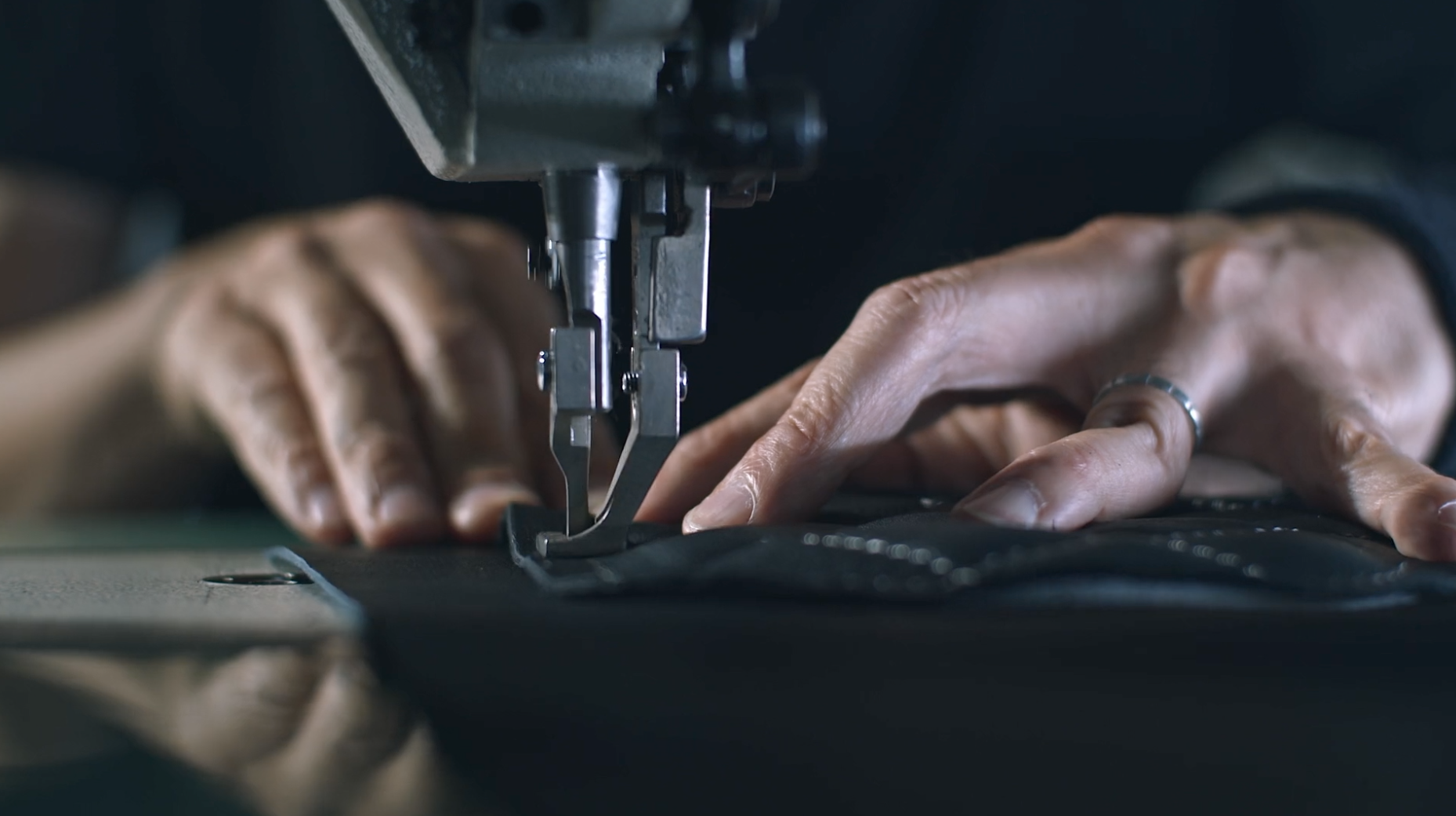 HEAD FACTORY
CONCEPT
Founded in 1935
``Leather jacket manufacturing'' has been continuously cultivated in Asakusa, Tokyo, ``the land of manufacturing.'' ``Each craftsman sews one garment.'' These commitments are the proud principles of our company, which plays a part in manufacturing in Japan.
HEAD FACTORY was born from the "skills" and "enthusiasm" cultivated by Kadoya craftsmen, as well as from our feelings for all those who love leather jackets and motorcycles. We continue to create clothing that can be worn by generations for many years to come, without being swayed by the trends of the times.
HEAD FACTORY KADOYA
MADE IN JAPAN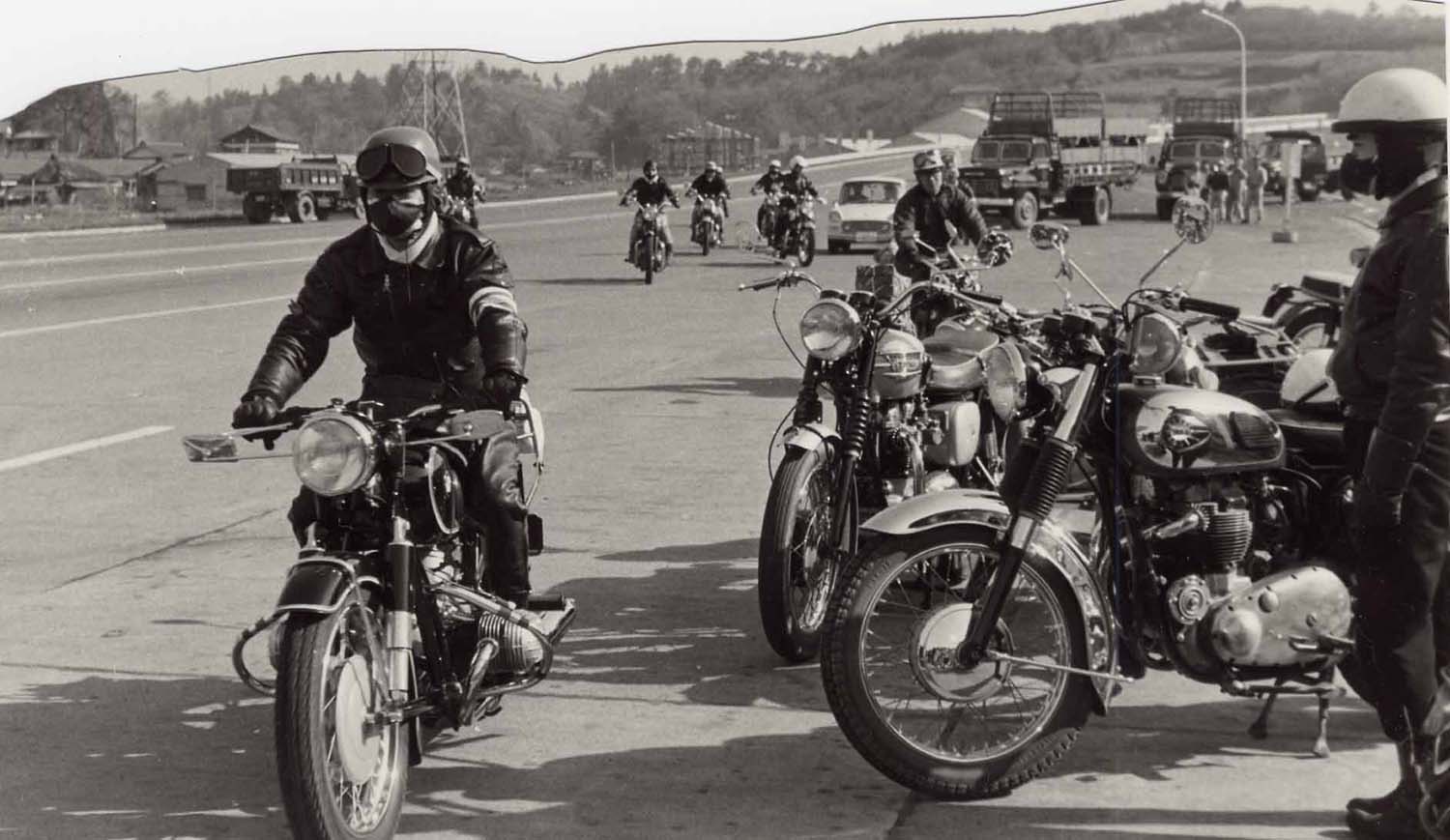 Leather town, Asakusa
Kadoya is one of the oldest leather jacket manufacturers in Japan. The corporate spirit of challenge and innovation has not wavered even after 85 years since its founding. Since its founding, Kadoya has put down roots in Asakusa and continues to operate.
Kadoya was founded in Asakusa in 1935, six years before the start of the Pacific War. The store name at the time of its founding was "Kadoya Leather Clothing Store," a so-called clothing store. In Asakusa, a town of craftsmen, there were many similar clothing stores from those days.
Asakusa, Tokyo has long been home to many leather wholesalers, and many leather goods were made there.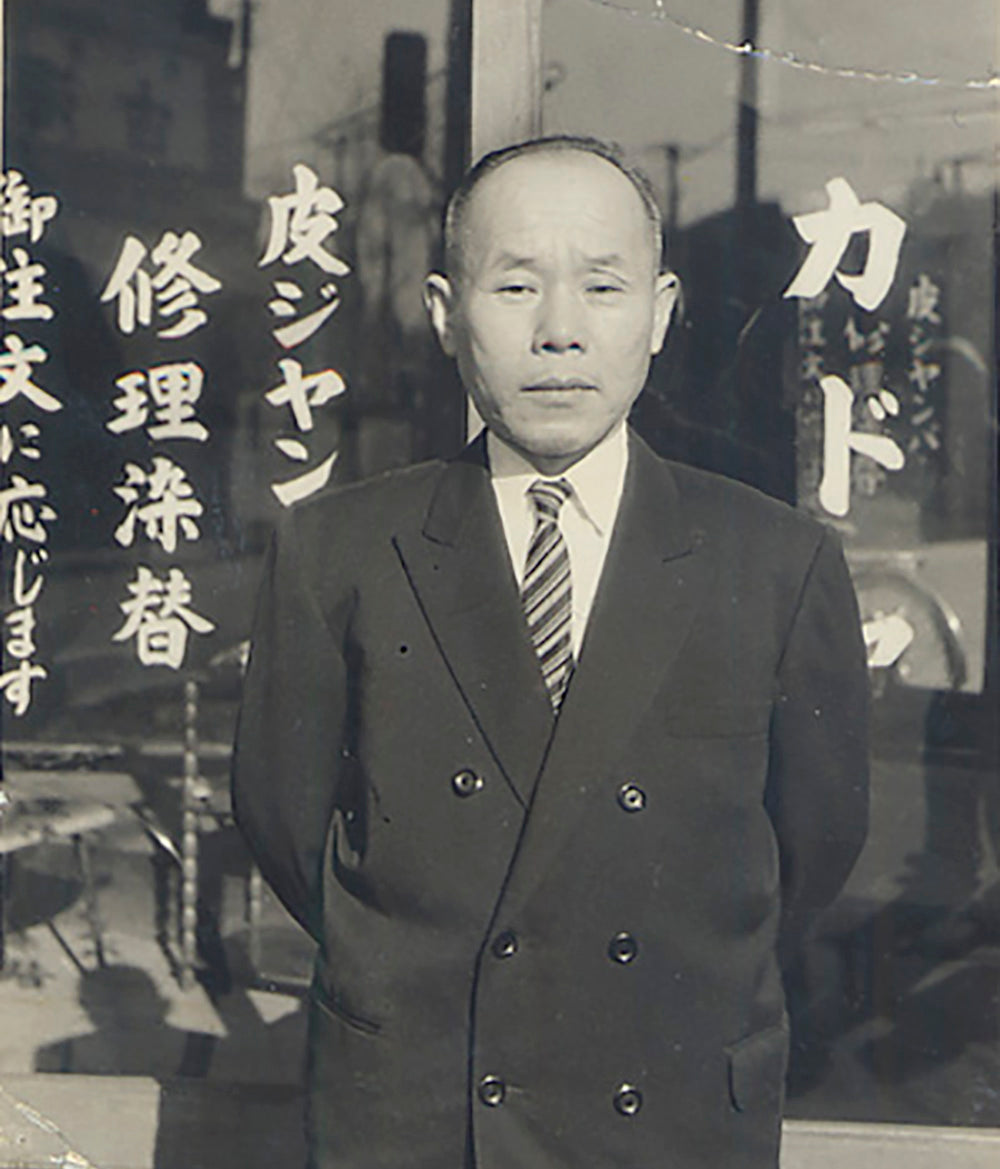 founder
Shojiro Fukano
1935 (Showa 10)
Founder/Shojiro Fukano opens Kadoya Leather Clothing Store in Asakusa, Tokyo.

Taking advantage of the location of Asakusa, which is a mecca for the leather industry, the company handles repairs and dyeing of leather products, as well as tailoring leather clothing.

"Trust can only be earned by meeting customer needs."

The leather jackets made by Shojiro, who loves motorcycles, become popular, and soon a large number of riders with a passion for motorcycles are flocking to the jackets.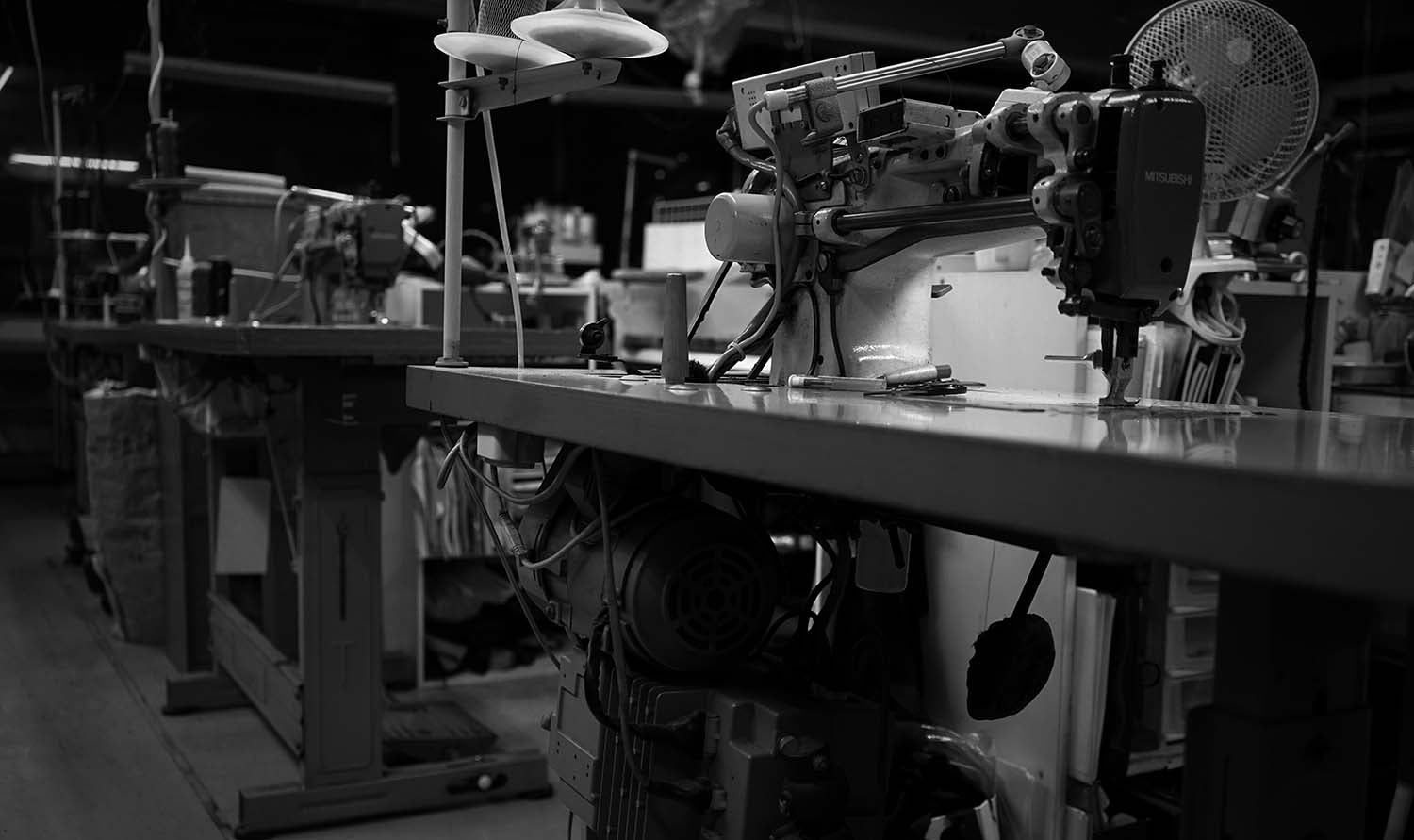 HEAD FACTORY
the night before
Kadoya's craftsmen, who have been making leather jackets for a long time as a made-to-order leather shop, have accumulated technology that can respond to all needs over time.

As the world entered an era of mass production and mass consumption, the trend shifted toward ready-made clothes.

In the midst of turbulent times, the skilled craftsmen led by Masataka Fukano, the second generation, started the development of ready-made clothes while continuing the conventional custom-made production.

In 2003, HEAD FACTORY, a purely domestic brand, went against the times and adhered to the style of "sewing one piece per person" as if it were going against the times. was launched at the factory in the head office building in Asakusa.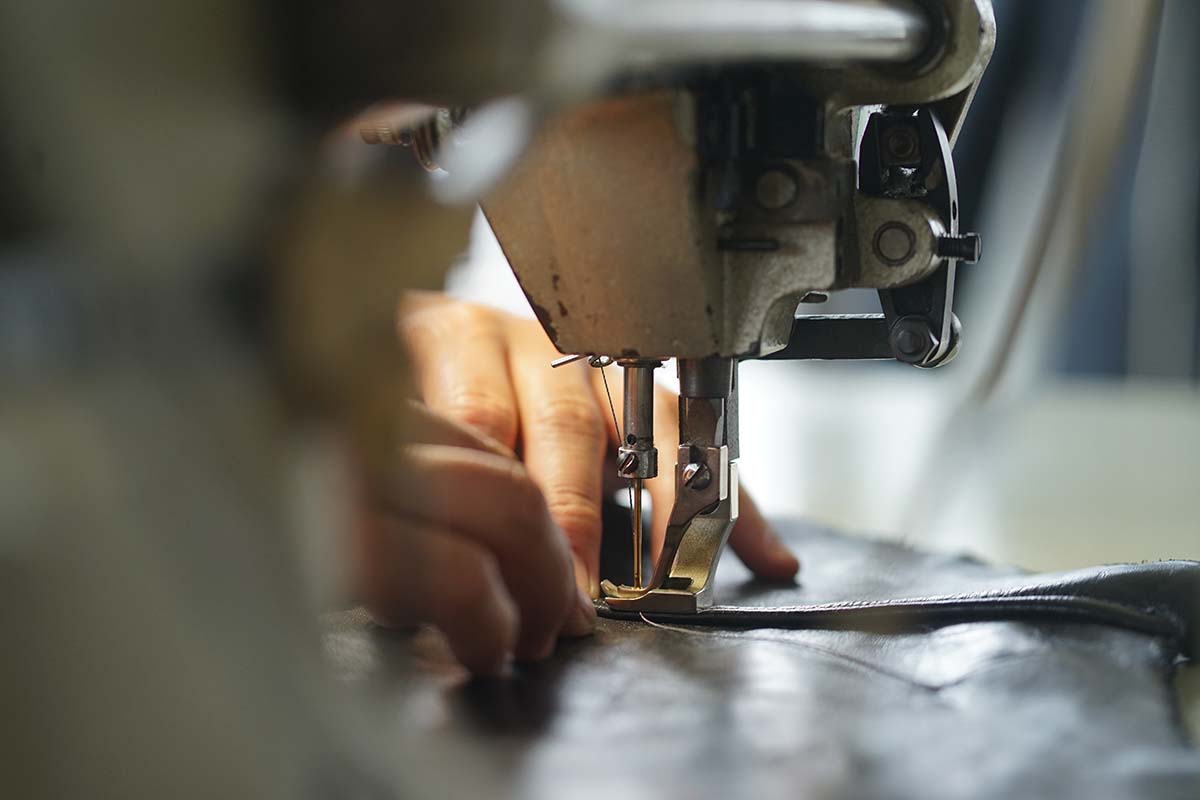 technology and quality
When making functional clothes using a special material called leather, the essence resides even in the invisible parts.
Leather is a raw material, and each piece has a different character. You can't handle leather by relying on one-sided techniques.
The production method is constantly fine-tuned by identifying the individuality of the piece in front of you, making full use of the appropriate tools and techniques.
Diverse techniques and the spirit of awareness have been passed down from generation to generation to protect quality.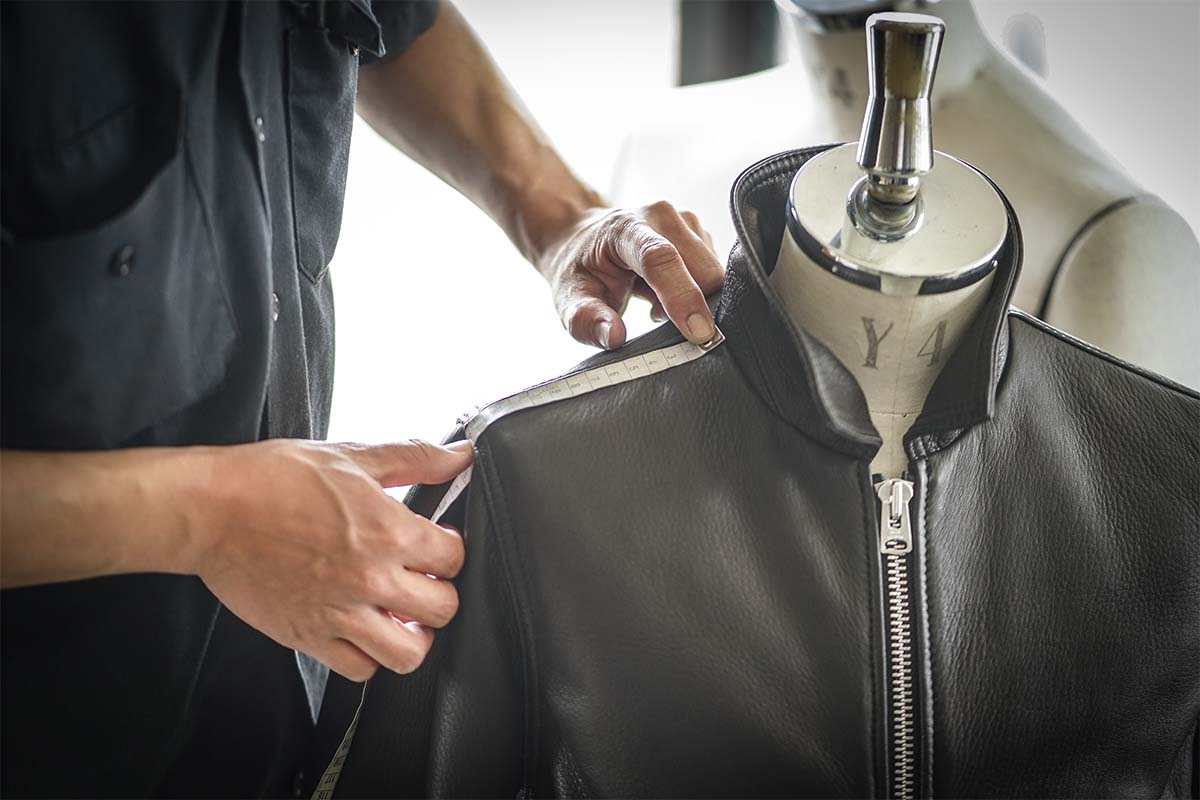 to produce something better.
Manufacturing of custom-made products, production of ready-made products, and repair. The skills required for each of these three are different.
Head Factory products are then created from the center of this triangle.
The important things that come to light as we continue to respond to diverse needs are incorporated into the details of new products and transformed into a single jacket.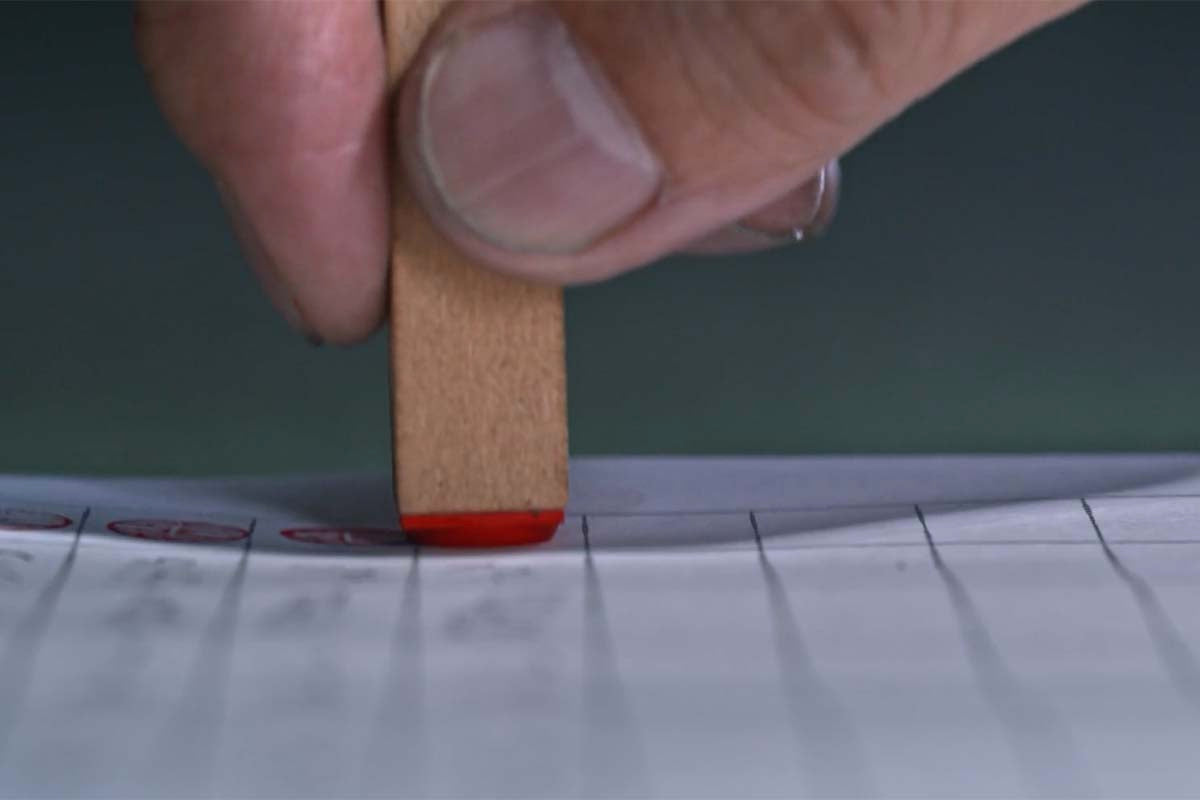 Quality born from responsibility and pride
The stance of Head Factory, which has its origins in custom-made products, does not change even when it comes to making ready-made clothes. In other words, it is a style of "sewing one garment per person" in which one craftsman takes responsibility for each item.
When dealing with raw leather, a completely manual production system can lead to inconsistent quality as a result. The skillful adjustment of the craftsman who sews by himself is alive even in the production of ready-made products where individual differences are not allowed.
It goes without saying that there are no flaws in the manufacturing process, but after a rigorous and authentic assessment, we send it out with HEAD FACTORY pride.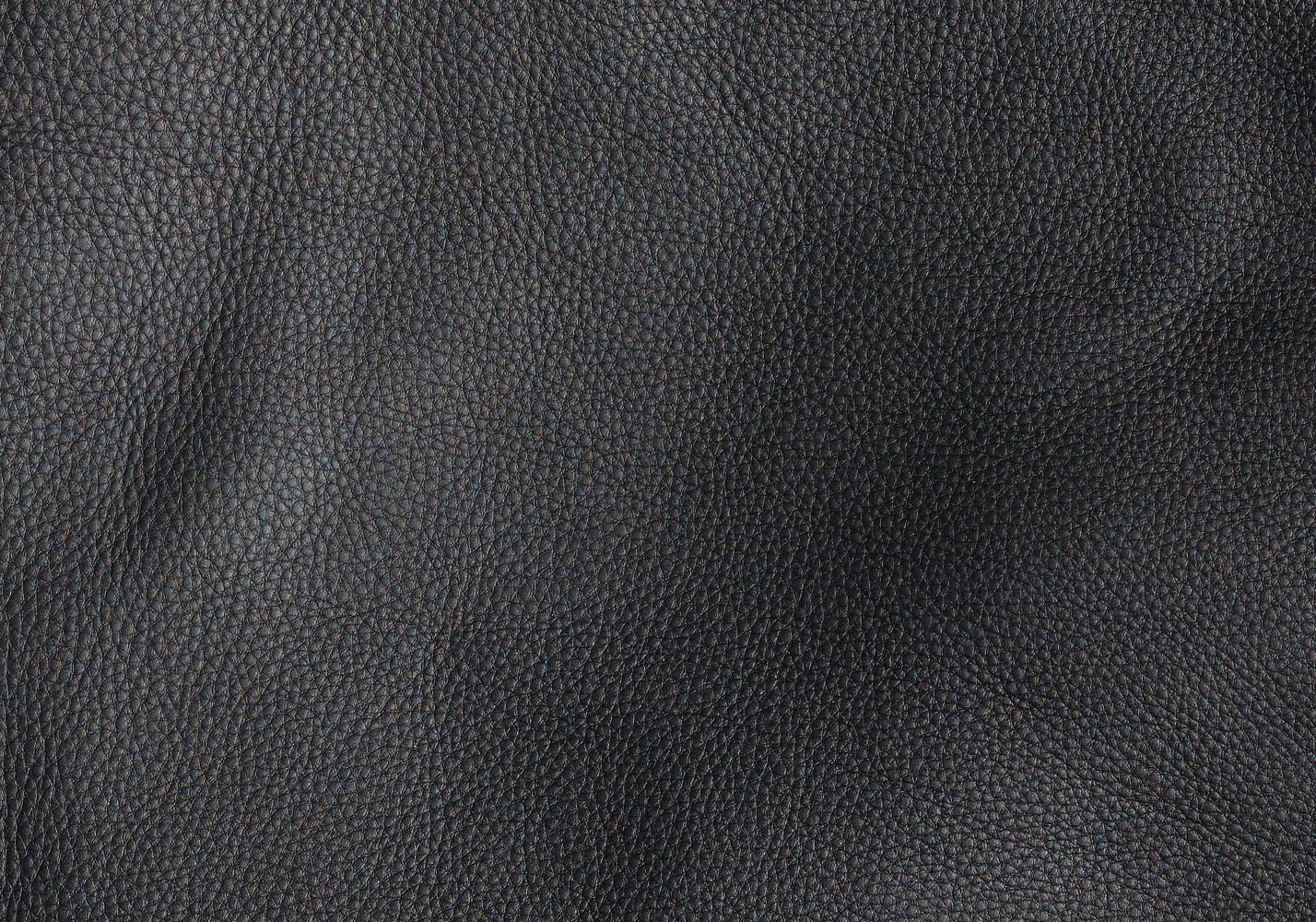 MINKKUL
KADOYA has been using it for many years as the official leather of the Japan Motorcycle Sports Association "MFJ official racing suit". It has cleared the "leather inspection test" such as tensile cutting load, tearing load, and abrasion strength at a high level. The raw leather used is domestic Holstein leather, which is characterized by its flexibility even among cowhide. Finished with full chrome tanning, it is soft and easy to adapt to the body while remaining firm. The surface is given top priority to strength, and the pigment sprayed with lacquer is applied to the dyed base.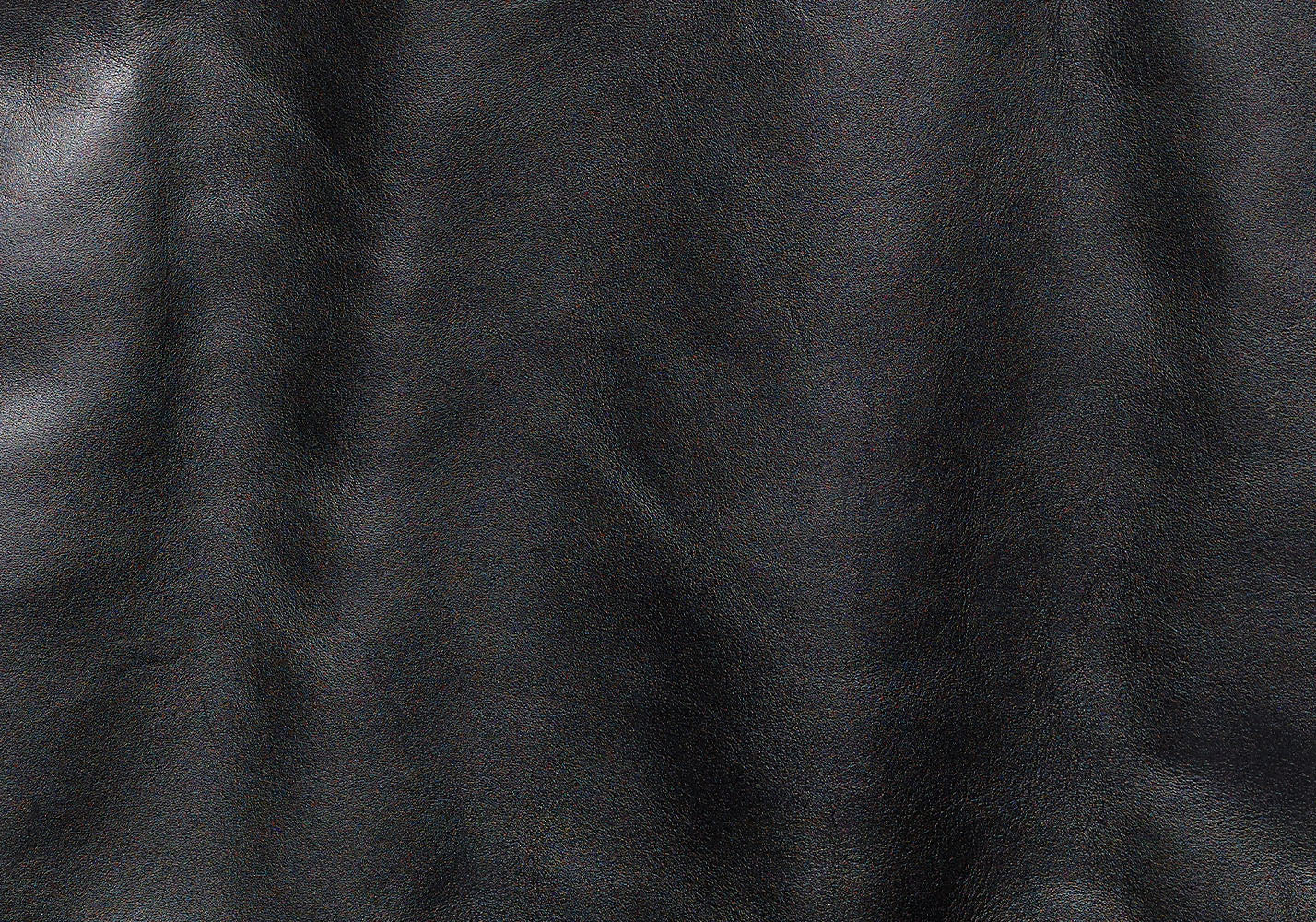 VINTAGE STEER
Leather has different textures depending on how it is tanned. Tannin tanning, which uses natural materials, increases its texture the more it is used, and is said to have a "glossy bottom." Chrome tanning, on the other hand, does not have the feel of tannin, but it has high tear strength and is suitable for clothing. In order to achieve both of these, "vintage steer" is chrome tanned, then half of the chromium component is removed, and then tanned with tannin. You can feel the unity that spreads to your body from the first time you wear it, and the suppleness and sitting that leave the tannin-specific waist. It has a tasteful finish that reproduces the ancient teachings of leather to shape the habits of the body.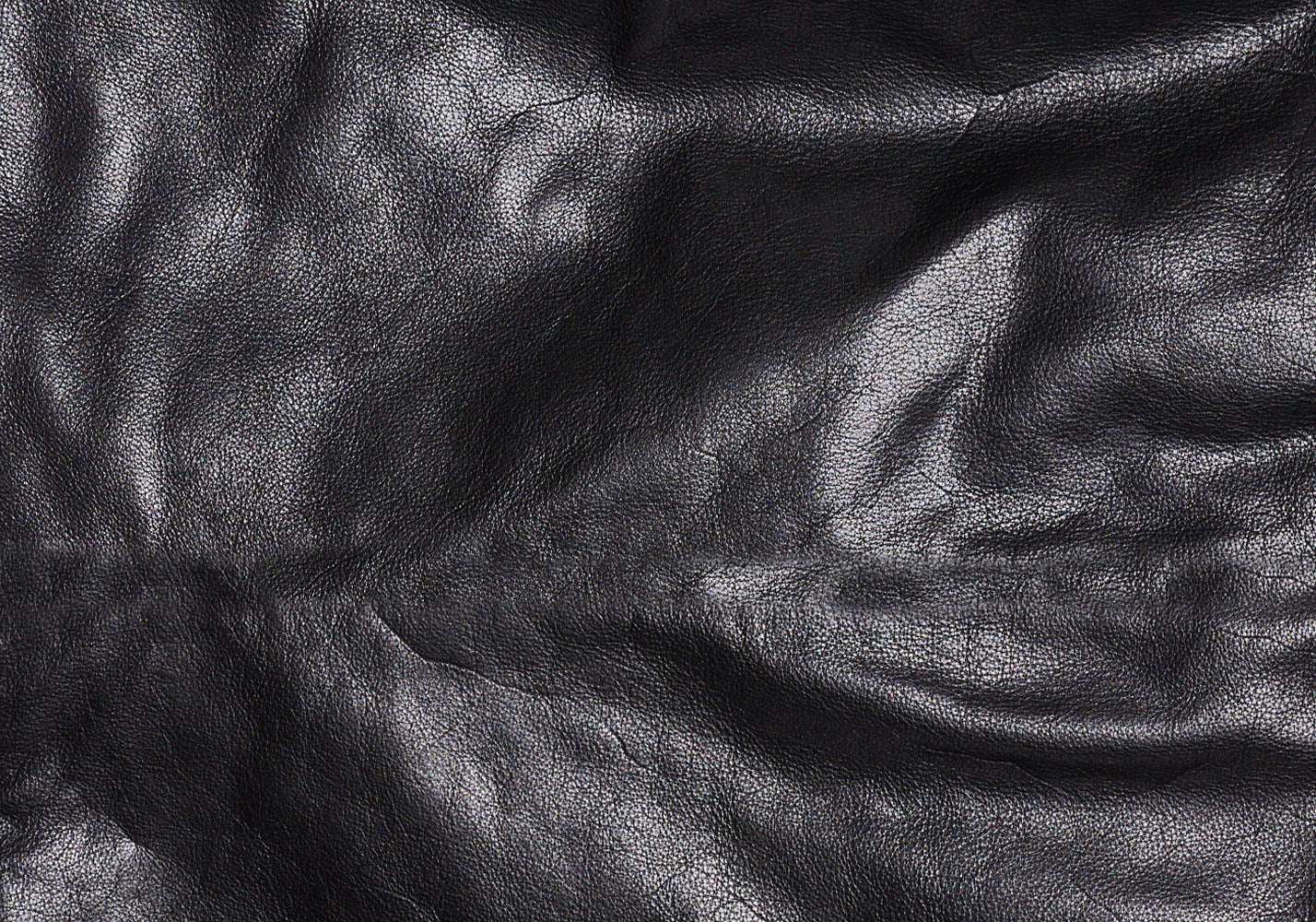 OILD VINTAGE STEER
The base is combination tanning that contains a lot of natural tannins like the VINTAGE STEER mentioned above. By adding a small amount of chrome tanning agent to the taste of astringent tanned leather that is rich in plasticity, flexibility and physical property fastness are enhanced. In addition, an appropriate amount of oil is permeated, and combined with the aniline dye finish on the surface, it expresses a unique taste with more transparency and smoothness.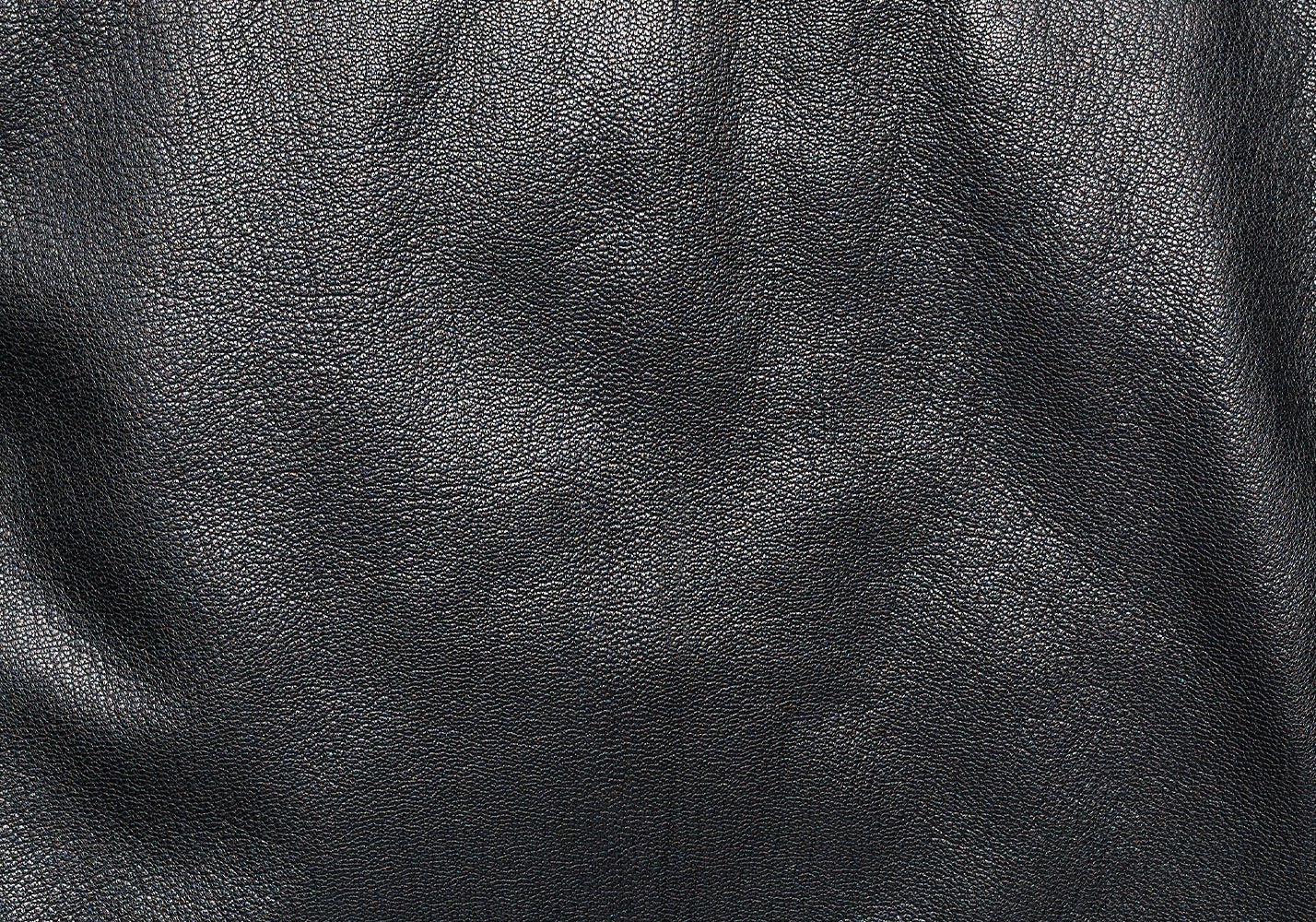 HF-GOAT
Goatskin is tough, lightweight, and has high strength against surface friction. However, the area and thickness of a single piece of raw leather often fall short of the ideal rider's jacket. This issue was cleared in cooperation with partner tanners. A unique embossed feeling is expressed by shrink processing that draws out the characteristics of raw leather and a wild and natural look. Goat skin that is dyed with natural materials and sprayed with the minimum necessary amount of pigment to enhance lightfastness, fading, and fastness to rubbing, while giving it a tenacious and firm feel, making it difficult to feel changes over time on the surface. We are changing the characteristics of this to something more worthwhile to grow.
HF-DEER
"Fujioka Yukichi Honten" is dedicated to tanning the natural material "deerskin", skillfully incorporating the colors and tastes of nature, and the traditions and techniques that were born and raised in Nara's beautiful four seasons. ". Since our founding in 1882, we have valued the know-how of tanning that has been cultivated over generations in a tradition that spans well over 100 years. Always doing forward-looking research. Local water "Utano water" is indispensable for "Fujioka Deer" because climate factors are important for tanning. In addition, in consideration of heat retention and durability, we stick to authentic Spanish drums using African teak wood. The excellent characteristics of deerskin, such as "suppleness", "strength", and "soft texture", can only be realized through careful attention to detail and reliable tanning techniques.
OVER KIP
Overkip has a finer surface and more flexibility than steerhide made of mature cowhide. Overkip is a gentle material that is easy to get used to from the first time you wear it. Carefully selected raw leather from North America is tanned with chrome, finished with dyes, and then lightly applied with pigments to create a subdued matte black finish. The luster increases with age, and you can enjoy an elegant contrast.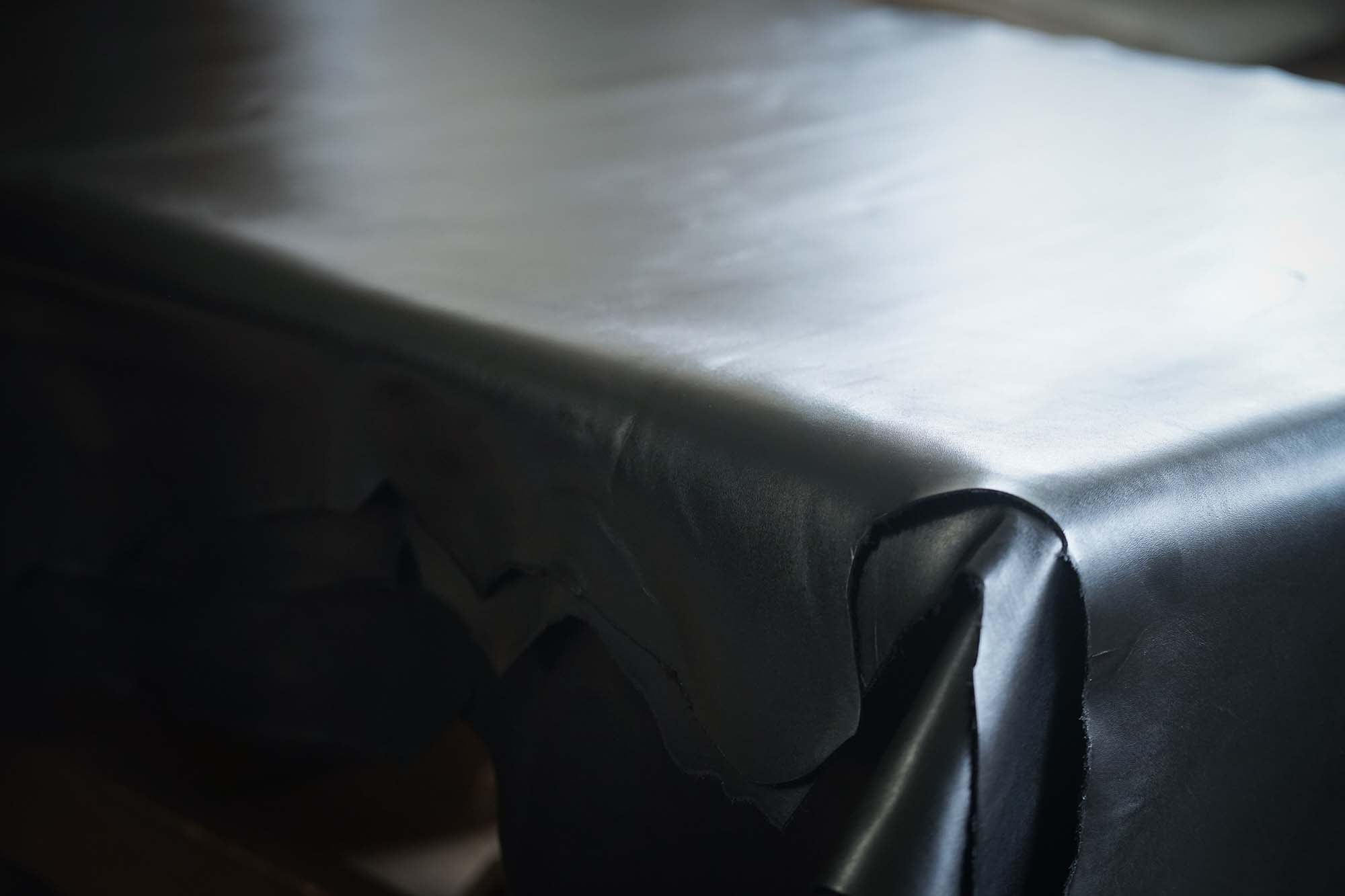 MATERIAL
Factories that tan leather are called ``tanners,'' and there are several tanneries that HF ​​works with. These leather materials have been made by each tanner as a standard for many years, and if they match the HF concept, they may be used as is or with slight changes based on their experience. However, in most cases, we communicate this concept to the tanner and start making samples from scratch. We repeat sample tanning, and when it approaches the required level, we actually complete it as a leather jacket and begin monitoring the garment. In parallel, we will be making prototypes of small items that are prone to abuse, such as key chains and wallets, using the same material, and will also conduct experiments on the strength of leather.
The thickness of the leather used in HF is 1.2 to 1.8 mm. The mainstream of general clothing leather is 1mm or less. All the leather we use undergoes physical property testing at specialized testing institutions, and we evaluate several items such as ``color fastness to light'' and ``tear fastness'' based on our own standards.
Of course, leather is not the only material used in leather jackets.
There is a wide variety of materials, including linings, zippers, buckles, buttons, threads, shock-absorbing materials inside pads, and core materials and cotton used in invisible areas. In any case, we do not use materials that ignore strength.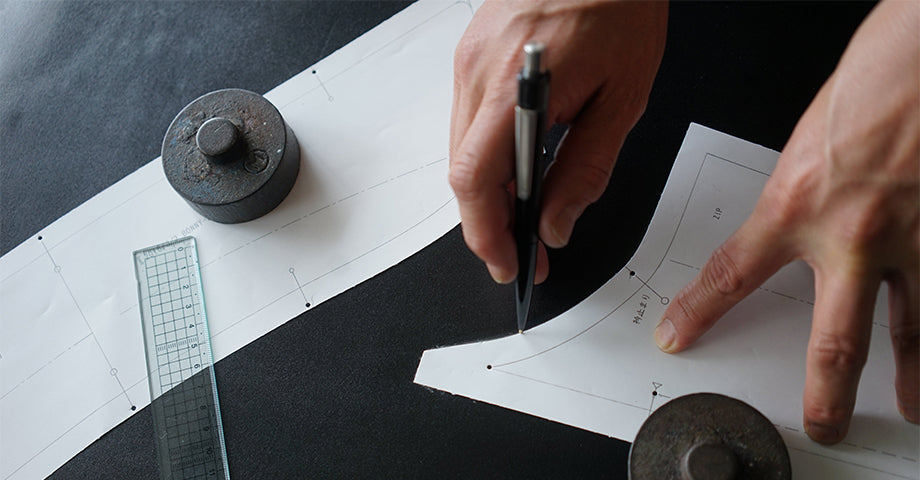 PATTERN
HFP (HEAD FACTORY PATTERN) has been built on the back of know-how cultivated over many years and the results obtained from customers.The data accumulated over several decades, the balance that adapts to the times, and HF's strength as a patterner. It is due to the closeness of the craftsmen. Detailed suggestions from a craftsman's perspective are easily reflected in the patterns. Professionals from each section work together to create a pattern that is perfect in every detail. This pattern was created through trial and error based on the data of various body types of men and women of all ages that have been measured so far, and is based on a thorough understanding of the Japanese body. This product compensates for stress points such as tightness in the shoulders and poor length when riding, and this stress has a high possibility of developing into unexpected danger, so the design is different from apparel patterns in hedging this risk. It is. At the same time, we will continue to develop patterns in pursuit of the most beautiful balance and form, from riding position to standing posture.
CUTTING
The actual area of ​​a piece of leather that is actually used is surprisingly small. The quality of the product changes greatly depending on how this effective area is handled. The area to be cut according to HF standards is approximately the size of one cow, equivalent to one jacket. Skilled craftsmen read not only the surface of the leather, but also the tightness and direction of the fibers, lay out the pattern in the correct position, and insert the blade.
It takes many years of experience to make cuts that anticipate future changes over time. We also provide aftercare for products that go through various processes and take many years to be delivered to our main factory as repair items. This cycle of "making and repairing" allows craftsmen to actually check the aging of the leather and provide feedback. Therefore, craftsmen who are well aware of the importance of cutting take time to sharpen their five senses and approach leather seriously.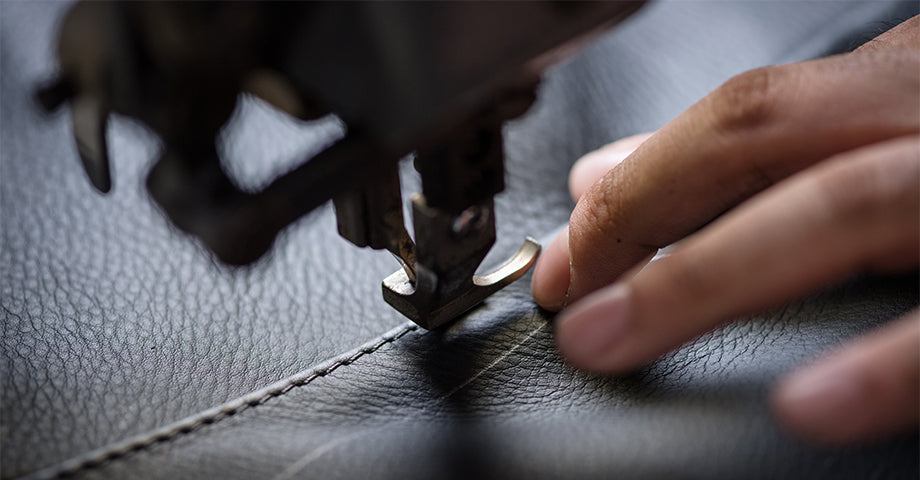 SEWING
It is basic for a seamstress to be concerned with everything from thread tension to stitch pitch, combination of thread thickness and needle count, but at HEAD FACTORY, we sew not only for the finished product's perfection, but also for its strength later on. I was aware of this from the beginning. The thread is more resistant to friction if it digs into the leather, but if the tension is too strong, it will damage the leather and cause it to shrink. Be sure to perform trial sewing in advance on the same leather as the product to find the best thread tension. One of the charms of leather jackets is their ``shadow''. The thickness of the leather creates shadows, and the tightness of the threads deepens the shadows. The unique expression of this leather can be spoiled rather than utilized depending on the leather cutting process, tailoring method, and sewing method. The design of HF products is meticulously designed to take advantage of the charm of leather and the characteristics of the material, and even the details and nuances are strictly stipulated in the sewing specifications.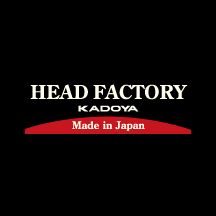 HEAD FACTORY
We propose a variety of products based on the unchanging tradition of "each craftsman sewing one garment at a time," the skills and enthusiasm cultivated by Kadoya craftsmen, and the "universal standard model."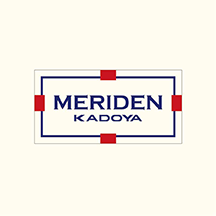 MERIDEN
A product group that retains HEAD FACTORY's manufacturing philosophy and incorporates it into an even sharper design. We propose products that coexist with motorcycle leather jackets and street leather jackets.
HF LAB.
Confronting various sewing methods and leather. HF's craftsmen have the creativity cultivated through this process. We highlight the individuality of our craftsmen and propose products that are different from conventional HF products.
HF CLASSIC
We offer universal clothing that is timeless, and products that are rich in texture, comfortable to wear, and easy to wear on a daily basis, so that the person who picks them up will want to keep wearing them forever.