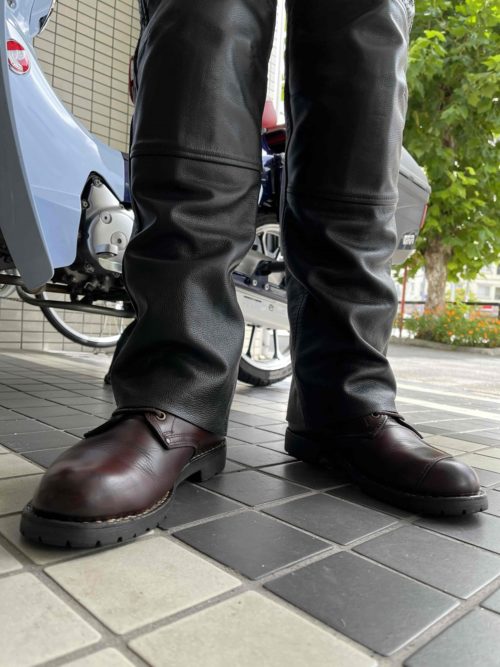 Longer inseam length is recommended.
Hello.
As we enter September, the weather continues to be unstable,
The extremely hot days that caused health concerns are receding,
The temperature has calmed down a lot.
The mornings and evenings seem so comfortable.
As a commuter rider, I use fabric mesh pants during August.
I will start using punched leather again in September.
To avoid any misunderstanding, "Even punching leather is second to none when it comes to breathability!"
Even if you understand, waiting at traffic lights is easier with fabrics that have a lower heat storage rate.
It's easy to handle things like laundry, and it's just for commuting.
On the other hand, when driving on highways or touring to high altitude summer resorts,
Punched leather is better from a safety standpoint and less fatigue.
People often ask, "Which is cooler, fabric mesh or perforated leather?"
You may be asked about it at the store, but the coolness remains the same.
The mechanism that creates breathability when you run is the same.
However, as mentioned above, we recommend choosing items that suit your motorcycle life.
...The SS season is coming to an end, and this topic will be discussed again next season.
Sorry for getting off topic.
Now, after wearing leather pants for the first time in about 2 months,
Now that I think about it, there was one thing that I thought was like this.
That is the inseam length.
Everyone, motorcycle pants generally have long inseams!
If you hem it normally according to your standing posture,
This is because it gets shorter when riding a bike.
In addition to causing outside air to enter through the hem and flapping,
It doesn't look too fancy either. *Personal impressions
Of course, we will explain it thoroughly at the store, but
For those who are thinking of hemming the hem once they have taken it home and are accustomed to it,
Some of the people who bought it online said, ``Will the current inseam length be okay?''
I think some people are worried.
To those people, once again.
Longer inseams are best for motorcycle pants! ! (Excluding boots in pants)
Make sure it is long enough to cover your ankles and leave no gaps between your shoes and your shoes.
If you are still concerned, please contact us at the store.
New items are arriving little by little!
For details, see the banner below.