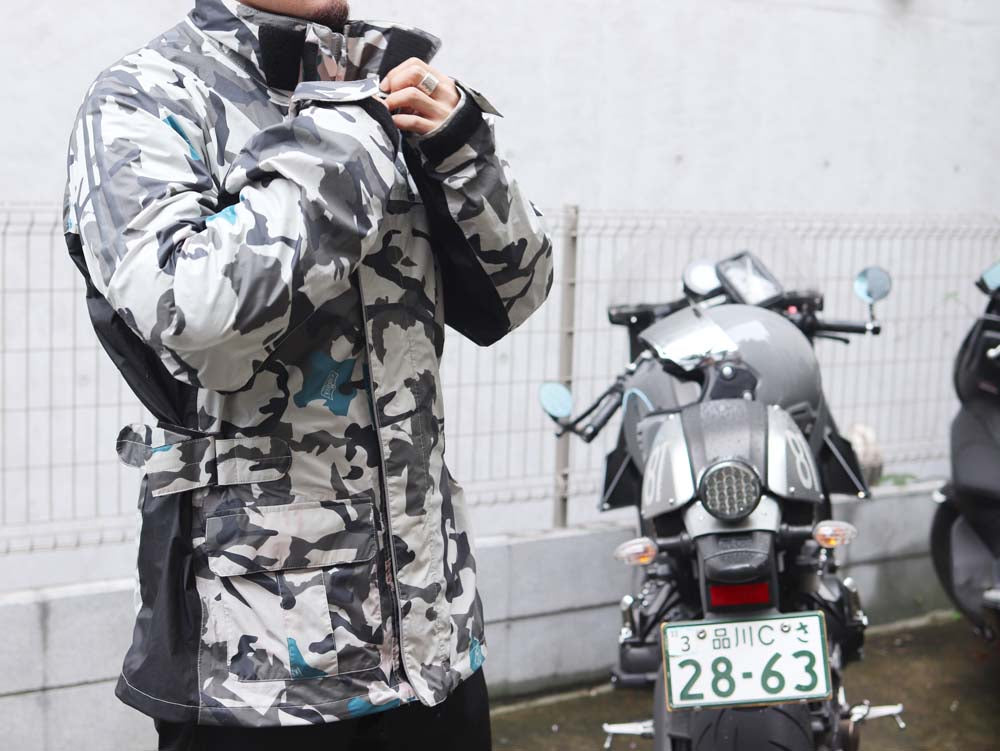 Rain suit for leather jacket -Special points-
Now, let me introduce you to the Kadoya rain suit that I uploaded the other day.
I wonder if this product is different from other companies' products, even if it's just a one-sided product introduction! ? That's what I started thinking...
Introducing the points we are particular about based on our own opinions and prejudices in a photo log that is easy to write as you like !
---
■Speaking with my own opinion and prejudice...What is good about Kadoya's rain suit, K`S RAIN T-4?
1.Improved waterproof front opening specification
The front cloth has three layers, and the edges of the overlapping fabrics have barbs to prevent rain from entering.
Another cool point is that the Velcro on the collar has been carefully positioned to avoid catching the interior of the helmet!

2. Reverse opening front zipper
The length is long to avoid getting wet in the rain, but that can make it uncomfortable depending on your position...
Kadoya's customer base is wide-ranging in terms of car model, age, and system, so we think about the versatility of this area, which can be used with anything.
Now, in such cases, I open the zipper from the bottom and let the hem slip out, allowing it to be worn in a variety of positions.
3.Head guard placed on the inside of the leg
Depending on the model of the bike, the hem may melt due to the heat. That's why I don't really want to use synthetic fibers for pants.
When it comes to rain suits, natural fibers are a little difficult to use because of their water repellency, lightness, and compatibility with film. . (Although I'm quite a maniac...)
Therefore, heat-resistant fabric is placed inside the hem to prevent it from melting. (*However, please note that this does not mean it will never melt.)
4.Original graphic camouflage pattern & reflector print
Until then, Kadoya Rain had a lineup of camouflage patterns, and the gray urban camouflage type had become the main icon.
I now have fond memories of when the idea of ​​renewing T4 came up, I decided to create an original camouflage pattern to create a pattern that would give a Kadoya-like feel...
I created the pattern by combining leather scraps and leather marks.
In addition, the T4 design is casually placed with a reflector print placed from the back to the arms.
5.Both jacket and pants have mesh lining
These days, there are many rain suits that don't have linings, but during the rainy season or the humid summer months, they stick to your skin and are very uncomfortable.
Additionally, sweat comes into direct contact with the coating surface, accelerating the deterioration of the film and shortening the lifespan of the rain suit.
Therefore, Kadoya Rain, including previous models, uses mesh lining.
I want it to be as comfortable as possible, even on rainy days, and I want it to last for a long time.
Continuing from the previous article, this was an introduction to Kadoya's leather jacket rain suit.