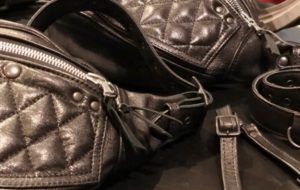 It is the arrival of irregular products.
Specially ordered items that are produced on an irregular basis and always arrive suddenly.
As a custom-made item based on HEAD FACTORY GEAR's shoulder and waist bags,
This time, we have changed the main body leather and parts based on SHOULDER BAG-PTD.
The main body is from vintage steer to goatskin,
The zipper has been replaced from standard metal to injection.
The buckle, eyelets, and buttons are finished in matte black, harmonizing with the black color.
This is a special edition product that is produced irregularly and is only available at directly managed stores, as the specifications differ for each production lot.
・SHOULDER BAG-PTD&HARNESS BELT SET
43,780 yen including tax (bag 38,500 yen + belt 5,280 yen)