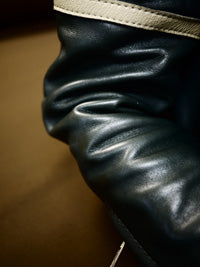 About 3 years ago, when launching a new model of HF ready-made products.
Vintage steer was adopted for the first time.

From advertisements published in numerous magazines, catalogs, homepages, etc.
I'm sure many of you already know this.
Currently, we will explain the most popular vintage steer among the entire leather lineup at our main factory.
Once again, I would like to tell you from the factory floor.


The country of origin is Los Angeles.
Adult cattle (steers) raised in areas with a stable climate are free from scratches, insect bites, sores, and branding.
It has a fine texture and is very flexible and durable.

Tatsuno City, Hyogo Prefecture has had a tanning factory there for a long time.
I met a tanner who boasts great technical ability and insight,
Vintage Stair was born.
We have been accepting direct transactions without going through a leather wholesaler, and from our establishment to the present.
We meet with them every month, have repeated close discussions, and manage production while building a relationship of trust.
Unlike shoes and bags, each piece of clothing is large, making it difficult to layout the pattern.
We select leather that has firmness, stiffness, and minimal scratches that are suitable for making these garments.
In tanning, even if the process is the same, seasonal changes affect the finish of the leather.
By paying close attention and ingenuity, we maintain stable quality.

"Tanning" (dechrome, mixed tanning)

Due to the tannins of natural materials, the texture increases as you use it,
Chrome tanning agent adds flexibility and durability.
Rider's wear is intended for use under harsh conditions.
With its flexible, rich texture and strength, we create clothing that can be used for a long time.
It's now possible.

Leather that incorporates the advantages of both chrome and tannin (mixed tanning)
After applying chrome tanning, half of the chrome component is removed and tannin tanning is applied to achieve both texture, strength, and suppleness.
The "squeak" sound when the sleeves are put through the clothing is a characteristic of vintage steers, created through the above-mentioned time-consuming and careful work.
After wearing it, the firmness and firmness when new becomes familiar and a sharper look.
It changes.


The color is created by creating a base with dye, then spraying a thin layer of dye to prepare the surface.
As a finishing touch, a colorless and transparent clear pigment is applied in layers to maintain surface strength.
Clear pigments do not destroy the original, realistic texture and texture of leather through pigment coloring.
This gives it depth and a glossy finish.



leather thickness
1.4~1.5mm

Color variations
Black, brown, navy, wine red, green (new colors)



Vintage steer handling model

AS-1 VS
AW-1 VS
AS-2 VS
AW-P VS
MERIDEN BONNY-0
MERIDEN TROPHY-0
HFG/SHOULDER BAG-STD
HFG/SHOULDER BAG-PTD
HFG/WAIST BAG-PTD


[Harada]