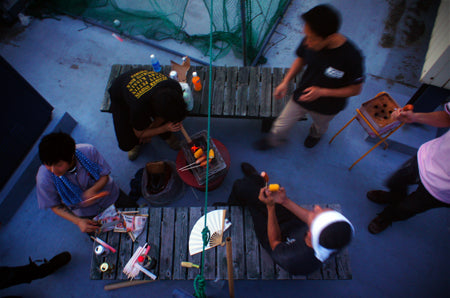 Hello, my name is Ichijima and I am the factory sewing supervisor.
Please forgive me for suddenly greeting you in such a place.
The fresh corn sent to Kadoya was delicious at the factory.
It had been a pleasant sunny day that morning, so we decided to take advantage of the opportunity to grill the food on the rooftop instead of working overtime.
``Customers say that it tastes best if it is boiled for a few minutes.'' When Managing Director Fukano told me, the corn was already on top of the corn, so I excused myself and just let it roast. I received it.
When I commute by bike, I don't have a drink with my friends on the way home from work, but only on special occasions, such as when I get on the train home after drinking, and before I know it, I end up lacking in communication. The corn I received turned an ordinary day into a slightly special day.

Kadoya headquarters rooftop instant beer garden
"Goshiro! Oxygen"
Stud Drori
``Don't be like that, look at me.'' Poof from the side.''
"As expected of the factory manager! I'm sure you'll squirt!"
Puff ~ & Patapatatap from a distance
It was a great time with a relaxed atmosphere and a lively conversation that we don't usually have.
Thank you for the delicious corn and a fun time.

[Ichijima]